Former stepbrothers find Christmas romance under the tree.
After years alone, Daniel Diaz is finally ready to shake up his orderly, solitary life. He's about to leave for a cozy Christmas getaway with his new man when he gets the call from the ER that his former stepbrother has been admitted with a concussion and a broken hand—and Cole put him down as his emergency contact. Why the hell would he do that? Daniel barely knows the guy. After all, their parents' marriage lasted less than a year and it was a decade ago!
But Cole has no one else to look after him and strict doctor's orders not to be left alone. So fine, Daniel will bring him along on vacation to make sure he doesn't starve or fall into a coma. This is supposed to be Daniel's chance to explore romance again after locking down his feelings for too long—except it turns out his could-be boyfriend is more interested in partying and being an obnoxious jerk. Daniel sends him packing, and now he's stuck with a virtual stranger in an isolated mountain cabin.
Cole Smith crushed hard on cranky Daniel when they were teenagers. Alone with him in a romantic winter wonderland, those feelings roar back to life. Glimpsing the caring, vulnerable man under Daniel's frosty shell, he yearns to get closer. Christmas is a time for surprises, and Daniel and Cole discover a scorching connection that just might melt their hearts.
This fluffy gay Christmas romance from Keira Andrews features former stepbrothers reconnecting as adults, sexy hot-tub shenanigans, cuddling by the fire, and of course a happy ending. 32,000 words.
It's that time of year again... Jizzmas time.
Knuckle up, Santa! Baby
still
ain't swallowing your massive load this year.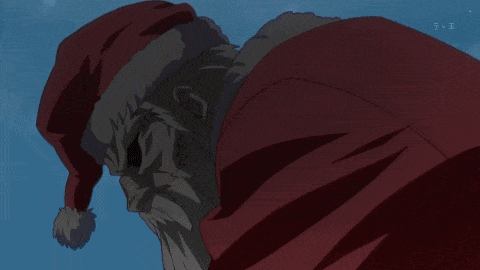 Accurate depiction of me battling Santa Jizz
Your
friendly
... er, friendly-ish neighborhood Grinch is back for the miserly allotment of Santa Jizzmas stories. The blurb and the author got me to add this to the short list this year. I came for the former stepbrothers, I'll be honest. It's not even taboo but can you blame me for twisting in such a way in head that I bypassed the Jizzmas fluff and hooked onto the buzzwords:
former stepbrothers
.
In Case of Emergency is set in Ottawa and features 28 year old workaholic grumperton, Daniel Diaz. He's lonely and cold and he knows it. It's been six years since he had an actually a boyfriend and he's trying to get out of that rut by expanding his horizons. He planned a romantic getaway for his potential boyfriend and co-worker, Justin. Cole Smith, 23 year old grad student and klutzy nerd extraordinaire? Cole throws a wrench in Daniel's plan by injuring himself and making Daniel his emergency contact. Daniel hasn't seen Cole since he was a big eared thirteen year old and doesn't understand why he'd be Cole's emergency anything.
Cole isn't that little teen anymore. The two were barely stepbrothers for even a year, so the title is just name only. Daniel barely paid the pipsqueak any attention. He's paying adult Cole all the attention though.
Cole needs someone to take care of him for the a few days, so he tags along on Daniel's Christmas getaway to Quebec. There is a mixup and an almost cartoonish antagonist in twink Justin. I could hardly see what appealed about him and then I remember how Daniel and Justin initially met... so I'll keep it quiet.
Christmas played a nice background to the budding romance once the extra characters were gone. It was...nice even.
Out of my space, Jizzmas!
Possibly demisexual (his words) Daniel is grumpy light. He calls himself cold and unfeeling, but I didn't really see him that cold. I do like what his character represents, but I'm iffy on buying it. Cole was also very likeable. He's the nerd with a decade long crush who also is snarky. I liked them together and individually. They were written to fit together, that the insta-connection works.
The plot was closer to
3 Hearts.
The sex (yes, smutsters banging happens) was hot. Nothing too crazy - rimming, frottage, big guy bottoming, hot tub rubba-dubbing.
4 Hearts
for the smexy times. And delivery?
3.5 Hearts
Pretty easy unrequited love feels with snow and Jizzmas trees!
The story delivers what it promised, Christmas fluff. But the first half wasn't as strong as the last third of the story. Fluff or not, the plot was simple. The delivery at the beginning was good. Once the two former stepbrothers got into their stride, shared their inner thoughts and feelings, it got better.
Would I have liked it if the story to delve a little deeper with the characters?
Sure. But it's fluff, Christmas fluff at that! So I'll take my Jizz candy cane and leave.
In Case of Emergency
is light, practically no angst, with a medium dose of Jizzmas sugar. Cute, not overly cloying and the characters weren't annoying. It's a good trope - grumpy loner finds love in the most unexpected place. And crushing. Oh how I enjoy unrequited love and finally getting them!
Alright...alright...
Let's call this battle a draw, Santa! Until next time...