Where do you go when your home is no longer a safe place?
Alex is about to turn eighteen and is firmly in the closet. He's been biding his time, waiting to escape to uni, and finally come out away from the oppressive influence of his homophobic father. When he flunks his exams, he's stuck in the small town of Porthladock—and what's worse is that he's working for his dad. The only thing that makes it bearable is Cam.
Cam's comfortable with his bisexuality, but he doesn't broadcast it. Young, free, and single, his social life revolves around playing rugby and hanging out with his mates. He's attracted to Alex, but with the six-year age gap, Cam's wary of getting involved. Plus, he thinks Alex needs a friend more than he needs a lover, and as their friendship grows, Cam decides he's not willing to risk ruining it for casual sex.
When Alex's dad finds out about his sexuality, Alex is suddenly both jobless and homeless. He finds work at Rainbow Place, the local LGBT-friendly café and Cam lets Alex stay in his flat for a while. But Alex would rather be sleeping in Cam's bed than on his sofa. With them both living under one roof, their feelings for each other grow stronger, and the sexual tension is hard to ignore. Will giving in to it ruin their friendship and complicate things for Alex even more?
Although this book is part of a linked series, it has a satisfying happy ending, and can be enjoyed as a standalone.
Alex lives a double life. At home, with his homophobic politically-active parents, he keeps quiet. He can only be himself when he's with his friends or at Rainbow Place. And when he's with Cam.
Alex stole a piece of my heart in book 1. I just wanted to wrap him up in a hug and tell him that it would get better.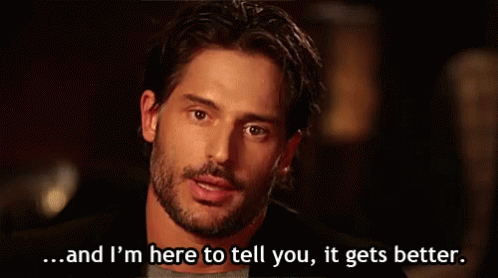 His story is one that's still way too common. LGBT+ youth experience self-doubt, alienation, and abandonment on a regular basis.
Cam has been smitten with the teenager since they first met. But he's determined to keep things strictly platonic.
I could understand where Cam was coming from. He and Alex were in two completely different stages of their lives, and things were bound to get complicated.
But the heart wants what it wants.
Alex and Cam may profess friendship and nothing else, but there's no denying the underlying tension between the two.
Things get even more tense once Alex's awful parents kick him out for being gay, and he ends up sleeping on Cam's couch. I have a few choice words for Alex's parents, but I loved seeing how the Rainbow Place community rallied around him.
It was incredibly sweet how Cam and Alex's "friendly" hangouts were basically trial runs for an actual relationship.
And once Cam
finally
got his head out of his ass, their relationship was the cutesy small-town romance I'd thought it would be.
Overall, this was an enjoyable MM new adult romance. Recommended if you're looking for a read with genre staples like self-discovery, beating homophobia, and luurve.