One hard-nosed military police officer.
One overly enthusiastic elf.
One poorly timed snowstorm.
Is it a recipe for disaster? Or a once-in-a-lifetime opportunity for holiday romance?
Teddy MacNally loves Christmas and everything that goes along with it. When he plays an elf for his charity's events, he never expects to be paired with a Scrooge masquerading as Santa Claus. His new mission: make the holiday-hating soldier believe he was born to say ho-ho-ho.
Sergeant Major Nicholas Nowicki doesn't do Santa, but he's army to his blood. When his CO asks an unusual favor, Nick of course obliges. The elf to his Kris Kringle? Tempting. Too tempting—Nick's only in town for another month, and Teddy's too young, too cheerful and too nice for a one-night stand.
The slow, sexy make-out sessions while Teddy and Nick are alone and snowbound, though, feel like anything but a quick hookup. As a stress-free holiday fling turns into Christmas all year round, Teddy can't imagine his life without Nick. And Nick's days on the base may be coming to a close, but he doesn't plan on leaving anything, or anyone, behind.
Average
Adam - 4 Hearts
Annabeth Albert's Christmas reads always deliver on the sweet romance, a good dose of sexiness, and the holiday cheer. 'Better Not Pout' is no different.
This book has a few things going for it - an age gap, a grumpy Santa, a sweet elf, a big family, and all of it in a small wintery town.
I'm a sucker for holiday reads set in small towns. It just makes the story a tad more romantic.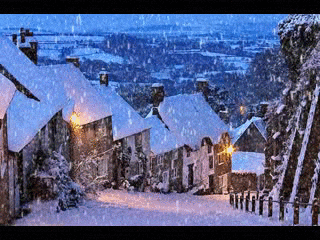 The romance revolves around two
very
different men who find themselves snowed in together. The situation isn't ideal, especially for Sergeant Major Nicholas Nowicki, but the sexual tension is undeniable.
Nick and Teddy MacNally are polar opposites. Nick is gruff, isn't a big believer in love, and isn't a fan of winter. Teddy is warm, wears his heart on his sleeve, and is all about the candy canes and snowflakes.
But Teddy sees right through Nick's hard shell to the soft man underneath, and Nick finds it hard to not care for the younger man.
Though Nick knows it's not the best idea, he can't resist what Teddy is offering.
And let me tell you - Teddy and Nick definitely bring the heat!
That initial hookup sets the pattern for their relationship - brief captured moments while the two help out with a charity drive, and with the understanding that it'll end when Nick moves away after his approaching retirement.
But in the meantime, the two men spend the holiday season together. They play Santa and his elf for the charity drive, attend the rowdy MacNally family's Thanksgiving extravaganza, and cuddle while it snows outside.
And slowly but surely
feelings
get involved. Because Teddy just wants to love and be loved, and Nick so needs someone to love him.
I wanted to punch Nick a couple of times for being so set against an actual relationship with Teddy. And my heart hurt for Teddy, even as he tried to deny that he was falling hard for his military man.
But this is Annabeth Albert after all, so the bit of angst is worth the spectacular happy ending. Nick and Teddy get the perfect happy ever after, with some mistletoe on top.
If you're looking for a holiday read that'll give you warm and fuzzy feelings, give 'Better Not Pout' a try!
Ann - 4.5 Hearts
This was the Christmas story for me this year. I love me all the holiday short stories and I have a tendency to gravitate towards them during the holidays for a couple of reasons; one, it's all the attention span I generally can manage and two, for the gorging, I'm in for the quantity I can cram because I don't want to miss any of the flavors on offer. I do manage one or two full length holiday novels and I'm so glad this year I read Better Not Pout, it ticked ALL my boxes for a Christmas story.
ALL. MY. BOXES.
Sergeant Major Nick, the reluctant Santa to Teddy's exuberant elf was an MC I could totally fall for. He's intense and stoic, but underneath the MP exterior is a big heart that's been buried under a uniform since he enlisted. Nick's entire adult life has been the military and as his reenlistment is denied and he's being forced into retirement he's at a bit of a loss. Sure, he's got a plan, and it sounds idyllic on paper, I could tell from the beginning that it wasn't necessarily a passion for him to look forward to.
Teddy is a homespun young man who gives everything of himself to his town and through the community center he manages, helps his neighbors who need it most. Everyone loves Teddy, myself included and his positivity is infectious. He's the perfect person for his role in the community and his only struggles lie in the fact that many people still see him as the kid he was before college and his lack of opportunity for romance in his small town.
Nick and Teddy may not have a lot in common, but they have both resigned themselves to living life without romance and frankly, their acceptance of their "fates" is just downright sad. Good thing Nick gets roped in to play Santa for the community center! NIck is in turn irritated and fascinated with Teddy's effervescence and Teddy is in turn, irritated and fascinated with Nick's stubborn strength. I loved their banter as they got to know one another and the respect that grew between them during their forced holiday teamwork added depth to their growing relationship.
Nick is concerned about their age difference, but the author gave Teddy a forthright and honest attitude that worked with his personality and showed his maturity organically. He was able to combat any of Nick's ridiculous arguments to them not spending time together with super annoying (to Nick) logic and reason. The two decide to make the most of the time Nick has before he officially retires and moves to Florida.
The clock is ticking and of course the two are falling for each other hard. The physical relationship is amazing, but the emotional connection they have is something neither of them expected they would ever have. Enter . . . the angst. It's not out of place though or OTT. It's reasonable and realistic and once I hit that mark of the story there was no putting my Kindle down until the HEA happened. And we all know the HEA is going to happen, it's a Christmas story after all and the HEA was delivered with a big beautiful bow. I believed in the epilogue and was all kinds of warm and snuggly as I read it. Better Not Pout was the best holiday book hug and it's getting a top spot on my reread list.