It's Black Friday and who better to close out this day than Devon McCormack! He's brought us a very... um... delicious story to help distract you from the hordes of shoppers fighting over the latest toy.
I washed my hands in the bathroom sink before running my fingers through my long brown locks.
I didn't want to go back out into the club.
I didn't care for strip clubs, unlike my guy Jesse, who if it was up to him, would have been at one every weekend.
Taking a breath, I headed for the door and unlocked it. As I pulled on the handle, a force pushed on it.
I stepped back, caught off guard as Mr. Six-Foot-Something stepped in.
It was the stripper, Rex, the guy who I'd given one-too-many Washingtons because he was extra-friendly when I tipped him.
In his neon-green thong, some bills stuffed into his thigh straps, he hurried inside and closed the door behind him, slyly locking it behind him, like this wasn't his first time pulling this move on a guy.
He was hot as fuck with short buzzed hair and a sleeve tattoo across his right arm. I hadn't been able to make out what it was, and now that I was busy looking between those steel blue eyes and his massive package being squished in that thong, I certainly didn't think I was going to figure it out in that moment.
He approached quickly, pushed up against me, and shoved me back against the brick wall beside the bathroom sink.
His lips were minty fresh. I enjoyed his hot breath rushing up against my face as he took my mouth. Heat radiated off his body, stacked with muscles, covered in a thick sweat from having just been on the stage, working his magic.
The way he wrapped his arm around me and pressed against the small of my back, pulling me up against him, I found myself lost in his spell.
We worked together, removing my blazer and unbuttoning my shirt before he pulled down my pants with my boxers.
Without hesitation, he squatted down and slid my dick into his mouth, going at it like the pro he clearly was.
It wasn't until that moment that I remembered that I had a fucking fiancé outside, waiting for me to come back.
I felt terrible for what I was doing. It was wrong, immoral, but it felt so fucking right when Rex was sliding his tongue up and down my shaft.
In that moment, as he deep throated my cock, despite the guilty feelings that raced through me, I found it only made it that much more exciting, that much more delicious.
I felt like I deserved it after what I'd caught Jesse doing behind my back.
If he could run around with a guy for six months, I could have a little fun in the bathroom with some random stripper, right?
I reached out, pressing my hand against the adjacent wall.
I was so worked up, so filled with need, desperately craving satisfaction.
He grabbed onto my shoulder and forced me around, pushing his face up against the wall before whispering in my ear, "Oh, you're being a very bad boy."
My face filled with heat as he forced my pants to my ankles.
I heard him spit behind me.
So why did I need it so fucking bad?
He massaged my hole with his wet fingers before lubricating his cock with some more saliva.
I turned to look at that fat erection of his, his thong pulled down, mid-thigh.
"Jesus fucking Christ, no lube?" I asked.
He snickered. "It's kinda my thing."
"Well, with a body like that, I guess you just get to have it however you want."
He slid his cock between my cheeks, and I could feel him pushing the head in.
He leaned close to me as he maneuvered his cock in my hole.
"God, you're tight," he muttered against my ear.
I took deep breaths, working to take him as he slid in, slowly, the sensation stinging within me.
I wonder what Jesse must think I'm up to?
Was he looking for me? Was he going to come in to get me?
I didn't care if he did find me.
I needed this experience...craved it in a horrible, disgusting way.
Rex and I worked together, me relaxing and him getting that big cock farther within me.
As he jammed it into my prostate, I groaned out loud.
He wrapped an arm around my throat, tugging gently while offering sloppy kisses against the side of my face.
It wasn't just that he was hot as hell or that there was this electric chemistry that lingered between us that made it so unbelievably delicious.
There was something about knowing that I shouldn't have been doing it.
And that it was a big FU to Jesse.
I was throwing four years down the toilet, and I didn't give a flying fuck...because I was consumed by my lust.
I enjoyed the experience, reveled in it.
"I need to pull out," Rex said. "I'm gonna shoot."
I reached around and grabbed his ass, tugging him close.
"No, don't," I insisted before hearing him grunt and knowing that he was releasing inside me.
His body jerked forcefully and then he settled, but just for a moment before he started up again, hitting my prostate. I jerked on my cock until I shot my own load, which collected on the wall in front of me.
Panting, we came down from our high together.
He pulled out and made quick with pulling his thong back up.
In my own hurry, I grabbed my blazer and pulled it on, not catching my mistake until I noticed my button-up still on the tile floor.
"Shit," I muttered as I pulled up my jeans.
Rex grabbed a couple of ones from one of his thigh straps and shoved them into the open fly of my pants. "That was lovely," he said, leaning close and offering a kiss.
He pulled away briefly, making direct eye contact. I was hypnotized by those steel blue eyes as he said, "Maybe we can continue this some other time."
He left the bathroom, leaving me gasping, disoriented, exhilarated...and feeling like a terrible human being.
I just want to know how to reenact that experience once again.
I gazed down at the ones he'd shoved into the fly of my jeans and noticed a scrap of paper with what looked like a phone number on it.
Was this just the beginning?
Whew! Is it hot in here? *wipes brow* Someone must have turned on the heater. Be sure to let Devon know what you thought of his story in the comments below!
About the Author: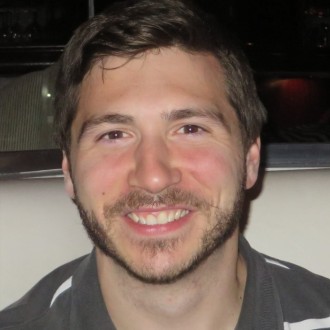 Devon McCormack writes adult and young adult novels. He lives in Atlanta, GA. Devon McCormack spends most of his time hiding in his lair, adventuring in paranormal worlds with his island of misfit characters. A good ole Southern boy, McCormack grew up in the Georgian suburbs with his two younger brothers and an older sister. At a very young age, he spun tales the old fashioned way, lying to anyone and everyone he encountered. He claimed he was an orphan. He claimed to be a king from another planet. He claimed to have supernatural powers. He has since harnessed this penchant for tall tales by crafting whole worlds where he can live out whatever fantasy he chooses. A gay man himself, McCormack focuses on gay male characters, adding to the immense body of literature that chooses to represent and advocate gay men's presence in media. His body of work ranges from erotica to young adult, so readers should check the synopses of his books before purchasing so that they know what they're getting into.
Twitter: @devon_mccormack
Facebook: https://www.facebook.com/devon.mccormack.79
Website: http://www.devonmccormack.com/
Devon is giving away a signed copy of Still Your Guy AND a signed copy of Up for the Challenge to TWO lucky winners!
a Rafflecopter giveaway
The giveaway is open until 12:00AM (EST) on

12/01

/17. Shortly thereafter, we will contact a winner!
Please respond to the winning notification within 48 hours or we will choose another winner. Good luck!
Don't miss entering in our month long unicorn giveaway
HERE
! It ends 12/1/17!