Being a fugitive in the old west shouldn't be this much fun.
The year is 1860. Robby Riverton is a rising star on the New York stage. But he witnesses a murder by a famous crime boss and is forced to go on the run--all the way to Santa Fe. When he still hasn't ditched his pursuers, he disguises himself as a mail order bride he meets on the wagon train. Caught between gangsters that want to kill him, and the crazy, uncouth family of his "intended", Robby's only ally is a lazy sheriff who sees exactly who Robby is -- and can't resist him.
Trace Crabtree took the job as sheriff of Flat Bottom because there was never a thing going on. And then Robby Riverton showed up. Disguised as a woman. And betrothed to Trace's brother. If that wasn't complication enough, Trace had to find the man as appealing as blueberry pie. He urges Robby to stay undercover until the danger has passed. But a few weeks of having Robby-Rowena at the ranch, and the Crabtree family will never be the same again.
Damn, what a kerfuffle. If only Trace can get rid of the fugitive while hanging on to his own stupid heart.
I was a bit hesitant going into this book. While I like a good historical romance, Westerns just aren't my thing. Luckily, Eli Easton delivered a funny, sexy, and sweet romance, in an entertaining Western setting.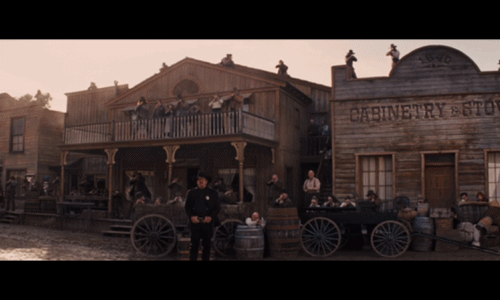 The set-up of the story takes some suspension of disbelief. Escaping a murderous gang in New York City, and after a series of unfortunate events, up-and-coming actor Robby Riverton ends up in rural New Mexico disguised as a mail order bride.
Readers have to buy that Robby pulls off his disguise impeccably, but I was thoroughly impressed (and entertained) by how Robby threw himself into his character of "Rowena." He's hilarious, especially his interactions with the Crabtree family.
It's easy to root for Robby. He doesn't have a mean bone in his body, but just happened to be at the wrong place at the wrong time.
Also, let's talk about the Crabtrees. They're unkempt, rough, and kinda gross at times. But they've got heart in spades. I couldn't help but love them!
The only person who sees through Robby's performance is the black sheep of the Crabtree family, Sheriff Trace Crabtree. Trace is exactly who you'd expect - big, strong, silent, and serious.
Trace and Robby are complete opposites, but the attraction between them is immediate. It doesn't take long before they give into the heat building between them, and their hearts follow soon after.
I thought the two were sweet together. Both men had been alone for so long, with Trace resigned to living a solitary life. Robby and Trace gave each other something to look forward to beyond their less-than-perfect circumstances.
Robby's troubles with the New York gang provide suspense, which pushes the relationship forward. The action doesn't come into play until near the end of the book, but it kept things interesting.
Despite the romance being pretty cute, I didn't find it particularly memorable. Trace and Robby just didn't have that extra flair that Eli Easton's couples usually have.
I think part of it was that the romance, while not insta-love, happens pretty quickly and was often drowned out by Robby's interactions with the Crabtree family and his worries about the gang.
However, the epilogue ties up everything nicely, and I was glad to see Trace and Robby get their HEA. Overall, this was an enjoyable read, though not one of my favourites by Easton.