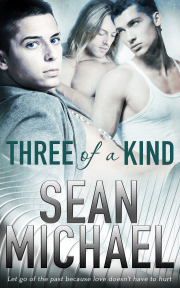 What's better than a pair? Three of a Kind of course!
Zane is about to give up by the time his truck breaks down in Arizona. All he has in the world is the truck, less than fifty bucks and more bruises than any one young man should have to bear. That's when he meets buff giant Butch who takes Zane in, helping him get his life back together.
Problem is, Butch already has a lover, an artist named Randy. Or at least Zane thinks it's a problem. Turns out, it's not the kind of trouble Zane thinks it is when Butch and Randy both take a romantic interest in him.
Can Zane let go of his troubled past and let Butch and Randy teach him that love doesn't have to hurt?
Reader Advisory: This book contains references to past physical abuse.
Publisher's Note: This book has been released elsewhere. It has been revised and re-edited for re-release with Pride Publishing.
This was a great threesome story! I'm rather picky when it comes to threesome stories, but this book covered all of my favourite elements.
Zane's truck breaks down on the side of the road after escaping his boyfriend who had just drugged, raped and beat him. Butch pulls over and offers Zane a place to stay while they fix his truck. At Butch's place Zane meets Randy, Butch's live-in lover, but Zane has a lot to work through before he can feel attraction, let alone anything deeper for either of these men.
This wasn't just a good threesome story, it was a good comfort story as well. The first half of the book is Zane working through the trauma he's been through with the help of Randy and Butch. I really liked how Zane's healing progressed. There was no instant attraction, lust, or desperate helplessness. It felt as realistic as it could for a novella. The book has all three men's POV's which I loved because we got to see how each man was affected by what happened to Zane.
Butch slid his hands beneath Zane's shoulders and guided him up to lean against the solid chest. Wrapping him in a hug, Butch held him. He sobbed, the pain pushing out of him. Butch let him cry, not saying anything, simply holding him gently. A warm body pushed up against his back, resting lightly against him, a new set of hands stroking his arms.

He cried until he was empty, then relaxed, leaned between them, lost.
All these characters complimented each other beautifully and I loved all of them. Butch is strong and sensible. He's gentle and wants to protect and take care of Zane and Randy. Randy is described as a loon, and he really is. He's an artist and therefore lives in his art and not the real world most of the time. He has no filter on his mouth or body, but doesn't have a mean bone in him. Zane, he's quiet and rather shy, but he's a hard worker and just wants a chance to give his love and affection to someone who won't abuse it. I loved reading about these three together and their friendship and relationship developing.
The aspects I'm most picky about with my threesome books is how and when the three all get together. Usually they either take most of the book to become a threesome, or they all get together too quick and the threesome lacks a connection. This book really had the perfect balance between relationship build-up and time together as a threesome. The three get together about halfway through the book, then there's lots of inventive threesome sex. The sex is so insanely hot… like INSANELY hot!! Everything feels more sensual because Zane is experiencing good sex for the first time, and reading about his responsiveness is growl worthy.
Randy's hands let go of his legs and wrapped around Zane's shoulders, holding on and encouraging the movements. Butch settled behind Zane, letting the kid feel his body. Zane's ass bumped against his cock, over and over, body slamming into Randy, rutting hard. Butch groaned, the friction driving him wild.
This was heartwarming and sexy, the only downside being the cover looks nothing like any of the characters, which is a pet peeve of mine. Overall I absolutely recommend this to anyone wanting to read a short threesome/comfort story!
A review copy was provided in exchange for an honest opinion.
Find out more on Goodreads.