Excuse us as we prance around! Daffodil Dapple Mane, aka Eli Easton, has stopped by to celebrate our birthday with us!
Isn't her mane enchanting? And Daffodil didn't come empty handed. She brought stable gifts for all to enjoy! Check out her flash fic and then enter for a chance to win her latest release, How To Walk Like a Man!
Hot Workout
by
"One, two, three…." Feet wide apart and the stretchy band in my hand, I did a deep bend. My ass, not coincidentally, was aimed at Mr. Dark, Furry, and Gorgeous.
My gym visits had grown exponentially since Dirk became a trainer at "Butts R Us". I think my jaw dropped all the way through the earth and hit China the first time I saw him. He liked to work without a shirt, which gave beaucoup oogle opps of his muscled, hairy chest and toned abs. He was covered in tattoos and had a big, full, black beard in 'lumbersexual' style.
Dirk's dark eyes were sharp but frequently kind, like when I said 'oops' and knocked myself in the head or kneecap with a barbell and he was forced to help me to a bench. There was a twinkle in those eyes that had grown in the past few weeks that I'd been coming to the gym faithfully. Or maybe 'flailingly' is more apt. I hoped it was because he found me attractive and not because he thought I was ridiculous.
Fuck it, my turquoise satin shorts might be tight, but I owned those suckers. "Four, five, fuck!"
In my quest to display the goods, I'd leaned forward too far and extended my knees too far back. Something in the back of my left leg snapped. I fell to the mat with the grace of a rhino and screamed.
"Not again!" These were the dubiously supportive words of Gigi, the other trainer on duty. She came rushing over, looking annoyed.
"I've got this." It was Dirk. My hero. He waved Gigi off and knelt over me. "What happened, Brandon?"
"I think I really did it this time," I admitted. My voice was steady but my eyes watered. It hurt like a bitch.
I vaguely pointed to my leg and Dirk grunted. "Let's get you to the office where it's quiet."
He picked me up—yes, picked me up—and carried me towards the office. My arms went around his neck.
"Should I call someone?" Gigi asked loudly, sounding more worried now.
"I said I've got this." Dirk winked at me.
He took me to the trainer's office, which was small, smelled of an unforgivable lapse in the use of underarm spray, and was cluttered. But there was an old couch, and he laid me carefully down on top of it. "Roll over," he said gently.
Despite my pain, I rolled like nobody's business. Command me some more. I heard a stifled laugh and his hands, which were very warm, touched the backs of my thighs. Oh. My. God. That loud groan was totally about the pain. Right?
He narrowed in on the injured hamstring and touched it lightly. "Man, you really strained this muscle. You should stay off of it for at least ten days. No gym at all. In fact, walk on it as little as possible."
No gym? "But…." I protested. How would I live without seeing Dirk?
His hands moved higher and his thumbs dug lightly into the tops of my thighs, tracing circles well above the pain and close to the hallelujah zone. His voice was rumbly. "You have to stop this, Brandon. If I ask you out, will you promise not to try to kill yourself? It's bad for the gym's insurance rate, you know."
"Yes!"
Dear Lord, I'd say yes to anything with those thumbs where they were, but a date with Dirk? Possibly the hamstring had snapped entirely, leading to fatal internal bleeding, because I had to be in heaven right now. My butt slowly levitated upwards under the ministration of those thumbs.
Dirk laughed and gave me a swat on the rear. "Vixen. Come on. I'll carry you out to your car. You should be okay to drive home since it's your left leg. But remember stay off of it."
He pulled me to sitting.
"Complete bedrest. I swear." I crossed my heart, my eyes inviting him to join me in that bed anytime.

#####


Where can we find our own Dirk? Are we right? Let Eli know what you thought about "Hot Workout" in the comments!
Author Bio:
Having been, at various times, and under different names, a minister's daughter, a computer programmer, the author of metaphysical thrillers, an organic farmer and a profound sleeper, Eli is happily embarking on yet another incarnation as a m/m romance author.
As an avid reader of such, she is tinkled pink when an author manages to combine literary merit, vast stores of humor, melting hotness and eye-dabbing sweetness into one story. She promises to strive to achieve most of that most of the time. She currently lives on a farm in Pennsylvania with her husband, three bulldogs, three cows and six chickens. All of them (except for the husband) are female, hence explaining the naked men that have taken up residence in her latest writing.
Eli currently publishes with Dreamspinner Press and has a few self-pubbed titles as well.
She also publishes thrillers under Jane Jensen.
Email her at eli at elieaston.com
Website
Goodreads
Twitter
Facebook
Tumblr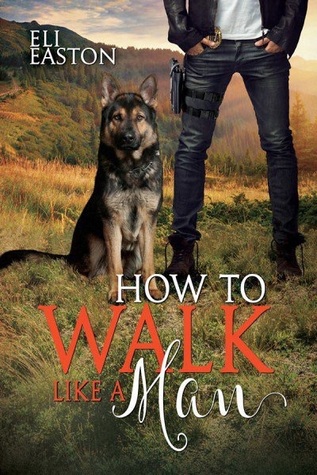 Deputy Roman Charsguard survived Afghanistan where he lost his best friend—his K-9 handler James. Roman was a military dog until two years ago when he developed the ability to shift into a human. It's not easy to learn how to be a man. He found a place to live in Mad Creek, a haven for the secret world of dog shifters. Finding a reason to live has been harder. That is, until a certain human walks into the Mad Creek Sheriff's office and starts making trouble.
Matt Barclay has the worst luck. First he was shot in a SWAT drug raid, then he was sent as DEA investigator to Mad Creek, a little town in the California mountains. Matt's job is to keep a lookout for illegal drug farms, but nobody in the town wants him there. And then there's Roman, Matt's erstwhile baby-sitter. He's the hottest guy Matt's ever seen, even if he is a bit peculiar. If this job doesn't kill Matt, sexual frustration just might.
The town is counting on Roman to prevent Matt from learning about dog shifters, Matt's counting on Roman to be his work partner and tell him the truth, and Roman's trying to navigate love, sex, and a whole lot of messy human emotions. Who knew it was so complicated to walk like a man?
To enter to win an ebook copy of Eli Easton's "How To Walk Like a Man", please leave a comment on this blog post and let us know your name and a means of contacting you (e.g., email, Twitter handle, link to Goodreads account, etc.)
The giveaway is open until

10:00PM (Pacific time) on 11/17/15

. Shortly thereafter, we will contact a winner whom we will select using a highly scientific "names in a hat" method (or, you know, an internet randomizer). Please respond to the winning notification within 48 hours or we will choose another winner.