Half-huldra Retz Gallows is having an awful day. First, he wakes up in the middle of driving to who-knows-where with an angry unicorn head in his passenger seat. This is almost normal, thanks to a lifetime of sharing a body with Nalem, a bone-controlling spirit with a penchant for wicked schemes and body-stealing joyrides. It's probably a bad idea to ask what else could go wrong.
Jarrod Gallows left home with plans to rescue his little brother from possession. Instead, he got saddled with a dead-end job as a paranormal investigator, a Faerie curse, and a daredevil boyfriend who might be from another world. At least he's got a new job—except why is his brother Retz here and why does this sudden reunion feel more like a bane than a blessing?
This day's going to get worse for the Gallows brothers before it gets better. To survive, they'll have to escape the forces controlling them, as well as the wrath of carnivorous unicorns, otherworldly realms, and even their own parents. Only time will tell if they'll make it out alive…or sober.
I picked this up because of the headless unicorn with carnivorous tendencies in the first chapter of this book and it only got weirder and more gory from there.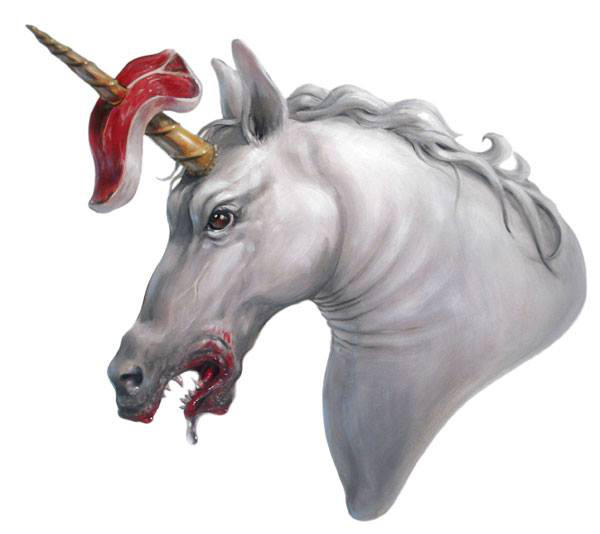 image credit:
Last of the carnivorous unicorns by Steven Gibb
If you enjoy a bit of gore (okay a lot of gore) in your urban fantasy then this is definitely the story for you.
Thorough world building, with some guest appearances by Bloody Mary and a interdimensional travelling train made of entrails, there is a lot going on in this story about two brothers who reconnect to do weird and wonderfully heroic things while trying to build a sibling bond they never had.
Retz has always been possessed by Nalem, and to put it simply, this has always been an issue between Retz and his brother Jarred. The problem? Nalem enjoys torture and has the ability to do things to bones, like fusing Jarred's jaw shut when he was young. Definitely doesn't create goodwill between the two, and the lack of empathy from Retz, probably as a result of being possessed as not facilitated a brotherly connection thus far.
Nalem has a plan to get back to his former glory, or take over the realms, whichever way he wants to spin it, and unfortunately Retz is being used as the body behind this coup. There is also Jarrod and Retz dad, who is now a fae, and some sort of tree-thing, and he has his own plans to finally kill Nalem.
So yes, this story moves in many different ways, and it is the go with the flow sort of reader who will enjoy this immensely. There are plenty of creatures to discover, and lots of sarcasm and death threats, but ultimately two brothers who really do want to build the bond they were never able to. I am looking forward to the next in the series.
If you enjoy weird and wonderful stories with some crazy and blood, then this is recommended to you.
A review copy was provided for an honest review