Listening Length: 5 hrs 27 min
Narrator: Mark Steadman
He was supposed to be thinking about numbers... but instead he was thinking about Dev's pink lips around his cock. Surely oral had to be on the list?
Hot vanilla!
Northcote strikes again with hot vanilla sexing!
Oh yeah, pout it all over! Next all over my face!
Practice Makes Perfect
is book #3 in the Housemates series but can be read as a standalone. Dev is a geeky first year physics student: skinny, nerdy, wears black framed glasses and a virgin to all thing sexual. What Dev lacks for experience he makes up for in listing. He lists like a boss! He lists so much, he makes lists for his lists, baby! #dedictation
After leaving student housing where he was bullied, socially awkward Dev is ready to sample life without being tormented by jock losers. And on his list of things to do after learning how to cook?
Research sex stuff
Join Grindr
Get some experience
Find a boyfriend
And he does everything in that order with a hilarious start. Who can tell people that they met their future boyfriend after a dildo mishap? Not many. A sex toy package screw up leads to sexy redhead Scot second year student, Ewan, to Dev's door. Not that he had a far distance to go being as he lives right next door.
Ewan is athletic, hot, lightly accented, available and also gay. I can hear the wheels turning in your head.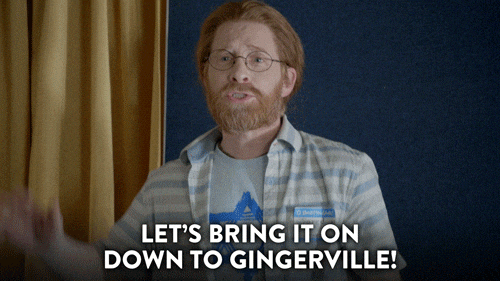 Chugga Chugga Choo Choo! All aboard!
This is my second ginger experience with Northcote and he upped the game by making Ewan had a Scottish accent. And then Mark Steadman, brought it next level with speaking with a Scottish accent for Ewan while I read/listened. (I read along with the audiobook - it's the best!) Ewan met the shy Dev and doesn't pity Dev in the least. After the Grindr incident (hee-larious), he feels hard pressed to take Dev under his wing and introduce him to safe sex. Because Dev is super smart but a little slower on the street smarts uptake.
So what does Dev do when faced with a new challenge? That's right. #listboss2darescue
Sex Things to Try




Kissing




Hand jobs




Frottage




Blow jobs (giving)




Blow jobs (receiving)




Fingering




Rimming (giving)




Rimming (receiving)




Topping




Bottoming
And they do all that and a little extra on that list. It was a funny, erotic time with self exploration and new adult yum yum.
Hot vanilla, baby! Get you some!
The fuck buddies meet up weekly to have sex sessions. But to make it feel more fair, Dev offers to tutor Ewan in Statistics. (Hm, who got the better end of the deal? Both because both
ends
were thoroughly inspected.) As both young men explore and tick off items on that list, feelings develop. There were misunderstanding/miscommunication plot devices at play toward the last third.
But you know who never tires of the misunderstanding/miscommunication tropes?
ME!
The story is a very strong
4 Hearts
, the relationship read organic. The dual POV gives the reader a chance to see where each main character's head is . The narration elevates the text and is close to
5 Hearts
. Steadman is charming and funny. He gives the right amount of emotion when needed at pivotal scenes. My rating is an average.
Steadman and Northcote are a fine pair. I hope they stick around for future books because Steadman rocks. I enjoy listening to his tone and distinct voices given to the characters.
If you're in the mood of college guys exploring that list, popping cherries and falling in love, definitely check out
Practice Meets Perfect
!
Recommended!
Let the #hotvanilla splatter all over you!