Can a touch of Satin bring a straight copper to his knees?
Detective Joel Hunter is on surveillance when he first lays eyes on Satin, the singer with the amazing voice, which is as beautiful as she is. But when the stake-out comes to an end, he can't resist going back to the bar. He gets a shock when he learns what lies beneath the satin dress, but an even bigger one when he realizes he's attracted to the owner of that sultry voice - Ross Dauntry.
Ross can't figure out why the cop keeps coming back, even after he's learned the truth. Is Joel attracted to him, or to Satin? Because the answer is important, and one way or another, Ross needs to know…
46,000 words. A standalone novella of satin and sensuality...
Although this story is in the same series as Lace, you will not find Dave and Shawn in these pages - Joel and Ross provide enough heat of their own.
Lost in a Book - 3 Hearts
The book was Meh... let's get to the good stuff which is the reason this has 3 hearts instead of 2.5...
The barre.
The flexibility needed.
The stretches one must do on the barre to "cool down."
The opportunity that presents itself when you have the ballet studio to yourself with another hot male watching you.
I'll give you a minute to visualize...
Did that help? It depicts the scene in the book perfectly... if you take away the clothes and add another naked male *ahem* directly behind him.
Anywhoooo, as I said, this book was just
ok
. I got distracted by the shiny cover and forgot that the first book in this series was just alright, too.
We start off with detective Joel Hunter. Joel is single and ready to mingle… with women. Unfortunately for good ol' Joel, all of the women he has tried to date have hit the road with parting gifts of insecurity in his personality as well as his lack of bedroom prowess. Joel has been attracted to men but "hasn't acted on it" and he is "definitely straight." The story starts with Joel and his partner Trish doing a sting operation in the Paradise Club. At the club, Joel is captivated with the beautiful looks and voice of Satin. Once the sting operation is over, Joel continues to watch Satin and on one of these nights, Satin approaches Joel.
Satin is a female impersonator who is aptly named for the Satin "she" dons on stage. Satin AKA Ross performs for the club while trying to find work in ballet as a dancer. Ross is also jaded by previous relationships where he puts out and then the men get out. When Satin approaches Joel, they have good conversation and Ross invites Joel for coffee which he reluctantly accepts.
Their relationship begins "slowly" over a month's time. They have coffees once a week and then they met for drinks which turned into "coffee" at Joel's flat. Now, here is where it's like a repeat of book one. The sex is hot but again, not realistic. Joel is still saying he is straight to I've-never-been-with-a-man-I-don't-know-maybe-I-could-be-bi to this…
"Ross's cock sprang up, hard and wet at the slit. It was an invitation Joel was unable to ignore. He bent over, and hesitantly at first, ran his tongue over the pearl of pre-come that glistened there."
and then this…
"He slicked up a couple of fingers, and stopped Ross's preparations with a gentle hand. "I think this is my job."
That's some talent right there. Taking a face fucking like a champ for his first time ever touching a male and then prep work, too. *smh* At least the scenes were hot even if reality had to be suspended!
Although both men have insecurities from past relationships, the main drama of the story is whether Joel will pull his head out and realize whether he is straight or bi
and
whether he wants to be in a relationship with Ross. The bad news for us as readers is that Joel isn't the brightest crayon in the crayon box so he is constantly back and forth. Just when you think that he is in a relationship with Ross, Joel starts thinking and that doesn't bode well. Joel goes from wanting to see where the attraction will lead and spending the night at each others flats to "I don't want to lead him on" *bangs head* or "this is getting way too serious." *rolls eyes* Joel is extremely clueless throughout which was irritating. The MC dialogue, their inner thoughts and "jokes" were awkward for most of the book. I liked Trish, Joel's partner. She added the most depth to the story which shouldn't be the case.
This will be the end of my journey for this series. I WILL NOT fall for another shiny cover with naked men in their
pretty
fabulous
stupid manties. The sex was hot but not worth putting up with the lack of story and awkward characters. On a positive note, I'll never look at a barre the same way again...
Fantasy Living - 3 Hearts
Lost In a Book is a fantastic Buddy Reading partner, and I had fun picking this book apart with her…. I mean reading this book and sharing my thoughts with her……. Ummm…….Let's move onto the review.
There were a lot of things I liked about this story. Ross has a man bun…. Hawt. I love a man bun. I do prefer man buns with a furry face and tattoos, but I'll take the bun by itself too. Yum yum.
The sex was mostly sexy and titillating. I'd have to say Ross getting turned on while practicing his choreography was pretty blood hot. I could see him in his tights with a hardon.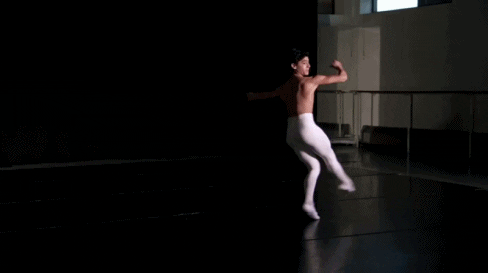 Yeah, that was very nice.
Joel and Ross had great chemistry. There was a very sexy shower scene with Joel's first time being rimmed. So sexy. But then it kind of got ruined when they moved to the bedroom. It was redeemed, but I wanted to lose myself in the shower sex. It ended abruptly, and I wish it hadn't.
While Joel is reluctant to label himself and his relationship with Ross, he goes into his first guy on guy sexual encounter with gusto. I've never read a scene where a guy goes from never having kissed a man and calling himself straight ("definitely straight") to going down on him. While it was hot, I'm not quite convinced. He was really nervous, and then he's getting his face fucked ("shallowly"). It was an advanced move for an almost virgin situation, and I feel like I was robbed of the sexy awkwardness I was expecting.
The constant hot and cold with Joel was …… boring and annoying.
I kept getting to a point where I thought he was all in with Ross, and then he'd say something, or think something about them just being "friends" and I would get pissed. The mixed signals drove me crazy. It actually ruined the story for me. I was hoping that they would get to a point where the story could focus on solid relationship building, and it just didn't get there.
The jokes…..
OMG the "jokes"
...... most of them fell flat. Like that awkward person at a party who doesn't know when to stop because they're so nervous about being social…. Yeah, it was painful.
I really liked Trish as a secondary character. She was witty, and supportive, and had enough personality to fit into the story.
I did not like Helena. I found her to be two dimensional and uninteresting. I don't think her character was developed enough to deserve being Ross' friend.
So some good stuff, and some not great stuff for me. I'm glad it was under 200 pages, because I'm not sure I could have coped with Joel's hot and cold routine for much longer. But I loved Ross and would have preferred the story to be mostly from his point of view, rather than it being strongly on Joel side.
Recommended for those who enjoy a fairly light bisexual coming out story with a bit of angst, and some great sex.
A review copy was provided for an honest opinion
.