Jack Daley left his music career behind—along with his domineering father—and is struggling to make a new life for himself and his autistic sister in Bluewater Bay. When a summer storm sweeps a handsome stranger into his general store, Jack is more than ready for a fling. No strings attached, because Jack can't share the secrets he and his sister are hiding from. Unfortunately, his feelings refuse to stay casual.
Mark Keao is married to his job as a costume designer on Wolf's Landing. He's autistic, so he's used to people not knowing how to interact with him, but that doesn't mean he wants to be a hermit. Especially when he meets Jack Daley, who dances with brooms, shares his love of the blues, and gets him like no one else. But relationships have proven complicated in the past.
Just when Mark is ready to try anyway, Jack pulls back. But Mark isn't giving up, and neither is Jack's sister. And then there's the music both men love, bringing them together time and again. It will take trust, though, to bring them together for good.
Jack Daley has only one goal - providing a stable life for his autistic sister, Margaret. He has little time for romance. That is until a handsome stranger walks into his store. Mark Keao is a costume designer for
Wolf's Landing
. His autism sometimes makes work and daily life difficult, but he doesn't let it get in his way. When he meets Jack, Mark's determined to make things work between them.
Mark and Jack start spending time together, growing closer. But it isn't easy. The two have to find solutions that will make Mark comfortable, and Jack will have to confront the past that stops him from living his life freely. Jack almost buckles, but Mark and Margaret refuse to give up so easily.
I loved being back in Bluewater Bay. One thing I really enjoy about this series is how each author sees the small Pacific Northwest town a bit differently. It makes for a fun visit each time I get to go back to Bluewater Bay.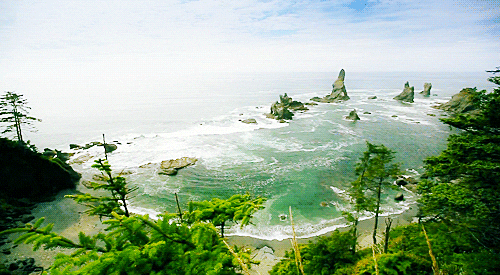 Both Jack and Mark will tug at your heartstrings. Jack and Margaret's backstory is revealed in stages. It's heartbreaking, and also anger-inducing. But they had each other, and the bond between brother and sister made me 'aww' a few times.
Readers experience Mark's struggle first-hand through his POV. He thinks differently, and his struggle trying to express himself so that others will understand is fairly obvious. But he refuses to let his disability stop his from achieving his goals, whether professional or personal.
I can't judge whether the author's portrayal of autism and its effects was entirely accurate, but I did think that the author was sensitive to the topic. I especially appreciated how the effect of autism on family and relationships was brought up.
Mark and Jack's romance grows slowly. While they're attracted to each other from the beginning, they become friends first. They shares dinners, bonding over their mutual love of music. Once the two do finally move forward, it's with many starts and stops.
It takes a while for Jack and Mark to get with the program, but it's clear that they belong together. They're patient with one another as they work things out. And the two are incredibly sweet together. While they may have had a few ups and down, the romance isn't at all dramatic, and I had no trouble just sitting back and reading as it slowly unfolded.
Plus, I really liked how Margaret played not-so-subtle matchmaker. She works her magic, pushing Mark and Jack together when they're close to giving up.
One thing I wasn't so keen on was how the author wrote the two different POVs. Jack's POV is in third person past tense, while Mark is in first person present tense. It made for a slightly disjointed reading experience. It didn't ruin the book, but I could have done without it.
Overall, I enjoyed 'Bluewater Blues' quite a lot. The romance is slow, but not at all boring. Mark and Jack are a cute couple, and their HEA is brilliantly fluffy. Recommended if you're looking for something slow and not too angsty.
Find on Goodreads!
Trivia Question
This prolific smut writer usually pokes fun at a sociopolitical event through the clever use of unicorns, dinosaurs & sometimes even a doughnut. (worth 15 pts)
Be sure to tweet your answer by tagging @BMBReviews along with the answer & the author's name for your chance to win DSP credits!