When lonely artist Siôn Ruston retreats to the seaside village of Rosewick Bay, Yorkshire, to recover from a suicide attempt, he doesn't expect to encounter any ghosts, let alone the one who appears in his bedroom every morning at dawn. He also doesn't expect to meet his ghost's gorgeous, flirty descendant working at the local museum… and the village pub, and as a lifeboat volunteer. But Mattie's great-great-grandfather isn't the only specter in Rosewick Bay, and as Siôn and Mattie investigate an ill-fated love affair from a bygone era, they begin a romance of their own, one that will hopefully escape the tragedy Mattie's ancestor suffered.
But the ghosts aren't the only ones with secrets, and the things Siôn and Mattie are keeping from each other threaten to tear them apart. And all the while, the dead are biding their time, because the curse of Rosewick Bay has never been broken. If the ghosts are seen on the streets, local tradition foretells a man will drown before the summer's end.
Adam - 4 Hearts
Recovering from a suicide attempt, Sion Ruston is spending the summer in a small seaside Yorkshire village. He spends his days alone, painting, walking, and avoiding the locals. His routine hits a bump when Sion wakes up one morning to a strange man in his bedroom, who turns out to actually be a ghost.
Sion's lonely existence is further disturbed when he meets Mattie, a descendent of the ghost. Mattie is the complete opposite of Sion - younger, out-going, and fun-loving. Mattie makes no secret of his attraction, but Sion doesn't do casual, or any kind of relationship at all. But when the ghost keeps coming back, and another one begins to crawl out of the ocean, Sion turns to Mattie for help. As Sion and Mattie try to find out what's going on, they find it hard to keep their distance from one another.
I really liked the setting of Rosewick Bay. It wasn't hard to imagine the quaint village and its residents. The village's atmosphere was a good backdrop to the story. I could easily understand why Sion would go to Rosewick Bay for peace and quiet.
Amy Rae Durreson's writing, as always, was excellent. The prose was evocative without becoming purple. It was easy to feel the despondency that Sion felt early on, and later the hope that Mattie gave him. It was also easy to be sucked in by the genuinely creepy ghost plotline.
When we first meet Sion, he's in a very bad place. Suffering from depression, he's closed himself off from any human connection. He's also a pretty grumpy person by default. It took me a few chapters to warm up to him, but I liked him.
Mattie, on the other hand, was immediately loveable. Flirty, charming, and always on the lookout for new friends, Mattie was the perfect yang to Sion's yin. The two were complete opposites, but fit so well together. I loved how patient Mattie was with Sion, and how his understanding pushed Sion to work for a future together.
I'm a sucker for some comfort/healing, and that's something this author does very well. Reading about Sion and Mattie fall for each other, and in the process help each other deal with their hurts, was a treat. This book is low on the steam, but I thought the sweet romance definitely made up for that.
The ghost story was kind of like a parallel romance, though with a very different, and unfortunate, outcome. While this book didn't give me nightmares like Durreson's
A Frost of Cares
, it still sent chills up my spine. The ghosts in this book were just as enthralling as the main couple.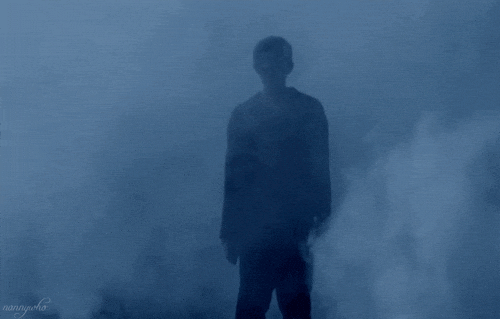 'Spindrift' grew on me. It starts off slow, but by the halfway point I was hooked! If you're looking for a low-steam sweet romance with a paranormal twist, I'd recommend this book.
Ann - 4 Hearts
It's best to read a ghost story with a friend. They can hold your hand and you can squeeze the hell out of theirs when you get stressed out with the oogie boogies. Thankfully I had myself an Adam for Spindrift.
I fell in love with this author's ghost story, A Frost of Cares, and so I was really excited to read this one. Spindrift delivers the moody atmosphere, the romance and the ghosties in spades.
Amy Rae Durreson is so good at settings, tone and characters that the story would stand alone even without the haunted souls that live by the sea in Yorkshire. Not that I would want to give them up at all, because I LOVE a good ghosting. Sion has come to Yorkshire from London to recover from a suicide attempt and find some peace. He's not an artist by trade, but his painting brings him satisfaction like nothing else has. He's incredibly lonely and feels so much older than his chronological years. Reading his retelling of his tale and his life alone in the cottage is heartbreaking.
Sion is not there very long before he gets his first glimpse of one of the spirits. The fact that Sion is the one to see him is even more frightening given his mental health history. The tension is palpable and adds to the overall eeriness. When he decides to do a little investigating at the local museum he meets Mattie who is his opposite in just about every way. Sion is immediately attracted to Mattie's vivacious nature and he almost doesn't know what to do with the perfection that is Mattie.
Mattie has his own issues though and while Sion sees Mattie as all that is amazing, Mattie sees Sion in the same light. I loved reading the evolution of their relationship. Mattie has some moments he is completely humiliated by that brought him back to his small town that Sion doesn't know about. At the same time, Mattie doesn't know what brought Sion to the seemingly sleepy village. Being inside each of these MC's heads and getting the impressions they had of one another was so incredibly romantic. What each saw in the other was exactly what the other needed. Of course it took time, UST and same angst but they worked their way together and they worked hard to convince each other of their worth, flaws and all.
In amongst all of the relationship growth and drama were a couple of ghosts with tragic lives and deaths of their own. The ghosts are legendary in town and because Mattie is the grandson of one of them, they are able to get some insight into what the motives might be behind the ghost's appearances and if there is any truth to the legends of their sightings. The way the author gave just enough information about their history at Sion cracks the code of an old diary kept the mystery going up until the end. While the book started a little slowly, it fit with the introduction of the characters and as the mystery unravels the tension rachets up and by the time you hit the second half or so, there is no putting this one down.
Spindrift is a perfect balance of romance and mystery. The ghost story was balanced perfectly with the story of Sion and Mattie. I loved the resolution, the epilogue made me happy and was just warm and fuzzy enough without taking the story too far away from where it came.
For more information and to get your copy of Spindrift, head over to Dreamspinner Press.
**a copy of Spindrift was provided to BMBR for an honest review**