Snow, steam, and secrets.
The latest snowstorm carries something unexpected to the doorstep of Hutch's secluded Alaskan cabin: a stranger named Jude, the most beautiful man Hutch has ever seen. Jude says he's in the area for a ski trip and that he fled a domineering lover, thinking he could make it into town. But Hutch is a suspicious SOB and treats his unwanted guest warily. The problem is Jude isn't just gorgeous, he's funny and smart and flirtatious.
Two gay men snowed in for three days—things happen. Really good things. By the time the storm clears, Hutch finds himself a little too attached to Jude Devereaux, San Francisco-based male model. But is Jude what he claims to be? Or is he entangled in the secrets Hutch moved to Alaska to escape?
SheReadsALot - 4.25 Hearts
Dreamspun Desires aka cracky fluff has another home run with
Snowblind
by Eli Easton.
Me= when a new Dreamspun title is released
What fun romance tropes to find from the latest Dreamspun treasure?
Stranded in a snowy cabin mixed with a damaged hero and disguise
.
Delicious
.
My favorite of the house line (so far) happens to be by this same author, so this book had big shoes to fill. A total 180 from
The Stolen Suitor
, this book toed the line of cracky fluff with dashes of realism. If this isn't your first time with the line, you know to expect some cheese, some sugar and fluff.
All founded in this novel.
Set in Alaska, Hutch is a damaged solitary former Marine (oohrah!) with a lot of baggage and not a lot of patience for others. He's suspicious of a nearly frostbitten stranger that falls on his property. He has a secluded cabin for a reason and is on high alert with the frozen man's arrival. The frozen man being model Jude Devereaux. Jude thaws...and so does Hutch. The story for the first half is all Hutch's POV.
What is it about their connection he wonders. Is it the fact they're stuck in a blizzard and have no chance for escape? Maybe the need for companionship? Whatever the circumstances, the men are trapped in that house for three days.
And what a hot three days it was...
I'm sure you heard all about it.
But sex only this story is not. It has quite a twisty plot. And the twists and turns change from instalove/stranded highs to betrayal, action, murder, gun fights...
Dudes, it was a wild and crazy ride.
The story doesn't feature Jude's POV until 51%. And once it does, the story twists even more. I got swept away in the cabin fever feelings and could almost but the love. See, it wasn't instantaneous ILY's but close. And the author did a decent job portraying the men's inner thoughts as to what drove them for the crazy actions.
I'll keep all the crazy plot twists to a minimum as to not spoil the read. Because even if you guess what went down, you get the scope of it until you read it.
How's the sex?
Hot when it's there, even the fade to black/non-graphic interludes were hot. In the bedroom, the men don't lack the chemistry. For what is allowed in the house line, I found it to be hot.
How's the fluff?
Not as fluffy and sugary, but it's there. A little heavier in the whipped sweet fluff in the second half.
It's a close second to my fave, just because there were moments when my fluff bubble popped. And I questioned Hutch's motives once or twice.
The extreme climes, the action, the subterfuge and intrigue....the romance. It all in all made it a satisfying read.
Recommended for fans of the cracky fluff, who like hot alpha men who are more on the silent side. But when it comes to their men, you can hear them loud and clear!
Adam - 3 Hearts
Hutch likes his secluded life in the Alaskan mountains. When a gorgeous man stumbles onto his property in the middle of a snowstorm, Hutch is wary. But Jude's easy nature and good looks disarm Hutch.
They spend the following days steaming up the windows while a storm rages outside. The end of the storm not only brings with it Jude's departure, but also reveals secrets that threaten the tentative relationship beginning between himself and Hutch.
I thought this would a fairly predictable book. But about a third-way in, Easton throws in some big twists and turns and the plot really took off. It was a gamble to take the book in the direction the author chose to, but overall I think it was pulled off pretty well.
The first third of the book is what you would expect.
Hutch, a solitary and taciturn man, has a suspicious nature, but he can't deny how attractive Jude is. Hutch comes off as a hard man at first, but underneath he's a big old softie.
We don't get Jude's POV at first, so it's a bit harder to figure him out. But it's clear that he's more than willing to drop his pants for Hutch.
The two try to keep it professional at first, but that doesn't last long. The sex was killer. Hutch likes it rough, and Jude gives as good as he gets. The wall sex was a bonus!
The romance is borderline insta-love. Once the two give into their bodies' urges, their hearts follow quickly. Ordinarily, I'm not a fan of insta-love, but this is a Dreamspun Desires book, so I could overlook that. Plus, I felt that the two really did belong together.
So the book's moving along in a fluffy manner when Easton decides to mix things up. I'm not going to give away too much, but I'll say that if you were looking for a slow and easy book, this isn't it.
Because out of nowhere we get weapons stockpiles,
a conspiracy,
and loads of drama and secrets. And gunfights. Lots of gunfights.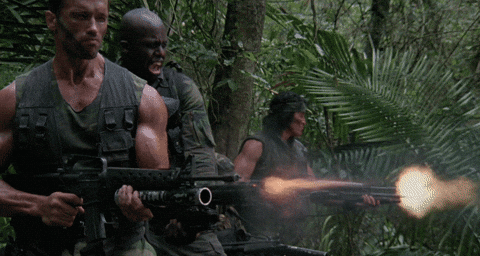 And through it all, Hutch and Jude prove that what's between them wasn't just the result of temporarily being snowed in. They do get their HEA, and it's exactly the sweet and fluffy kind I'd expect from a Dreamspun Desires book.
'Snowblind' ended up being very different from what I was expecting, but it was still a fun read. At times the plot was a bit too trope-y and cheesy for my liking, but overall I got the hot sex and fluffy ending that I was looking for.
Find on Dreamspinner Press or Goodreads!