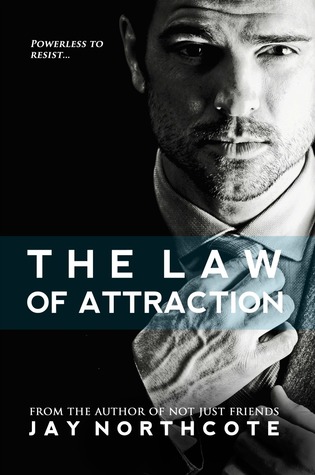 When a professional relationship turns personal, it's impossible to resist the law of attraction.
Alec Rowland is a high-flying lawyer in a London firm whose career is his life. He doesn't have time for relationships and his sexuality is a closely guarded secret. After picking up a cute guy on a Friday night, Alec's world is rocked to its foundations when his one night stand shows up in the office on Monday morning—as the new temp on his team.
Ed Piper is desperate to prove himself in his new job. The last thing he needs is to be distracted by a crush on his boss. It's hard to ignore the attraction he feels, even though Alec's a difficult bastard to work for.
Both men strive to maintain a professional relationship, but tempers fray, passions ignite, and soon they're both falling hard and fast. If they're ever going to find a way to be together, Alec needs to be honest about who he really is because Ed won't go back in the closet for anyone.
Jay Northcote is an author whose books I know I'm going to enjoy. She has a very clean writing style that is easy to read and engaging. Nothing is overtly complex, yet the characters are written with depth and understanding. They are likeable and relate-able - and that is what keeps me going back for more.
I chose different authors for different reading moods, and Jay Northcote as one I choose when I want a light-hearted read with a touch of humour. The Law of Attraction certainly fitted the bill for me. The storyline isn't a new one, discovering your new boss/employee was your mind blowing one night stand has been done before and will be (I don't doubt) done again. It doesn't matter to me though, if the story has been told before, if I believe in the new characters and enjoy the presentation - and here I did.
Ed kinda stole a bit of my heart. He felt very sincere. I appreciated that there was no unnecessary drama from him. No acting out. He wasn't afraid to be himself, but he didn't do it with a whole load of manipulative bullshit. I liked him a lot.
Alec - well truth be told, I did wonder of I was going to like Alec. The closeted gay guy with the best-friend-beard... it could have been just too cliché for my tastes. But actually, it didn't slip down that path, it felt right. I believed Alec and Alec's reasoning/behaviour.
As ever with Jay Northcote story, there is hot sex a plenty, so if you're looking to steam up your reading glasses this is a good bet. The balance of hot and sweet is pretty spot on for a low angst, enjoyable read.
To find out more see Goodreads.
A copy of this book was given in exchange for an honest review.
Buy Links (Book is exclusively sold on Amazon)

US: http://www.amazon.com/gp/product/B01B6NSXD0

UK: http://www.amazon.co.uk/gp/product/B01B6NSXD0

Universal Amazon link: http://mybook.to/TLOA_JayN