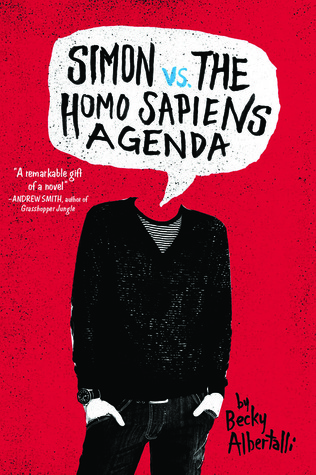 Sixteen-year-old and not-so-openly gay Simon Spier prefers to save his drama for the school musical. But when an email falls into the wrong hands, his secret is at risk of being thrust into the spotlight. Now Simon is actually being blackmailed: if he doesn't play wingman for class clown Martin, his sexual identity will become everyone's business. Worse, the privacy of Blue, the pen name of the boy he's been emailing, will be compromised.
With some messy dynamics emerging in his once tight-knit group of friends, and his email correspondence with Blue growing more flirtatious every day, Simon's junior year has suddenly gotten all kinds of complicated. Now, change-averse Simon has to find a way to step out of his comfort zone before he's pushed out—without alienating his friends, compromising himself, or fumbling a shot at happiness with the most confusing, adorable guy he's never met.
At first I was clueless, I had no idea what I should expect of this. Because it's not the usual M/M romance. It's a funny and quirky story of a 17-year-old guy in high school. And let me say this: he was a real teenager. He is cute and clever, with insecurities and strengths and I loved him.
Becky Albertalli doesn't beat around the bush and she directly says what is important to know. And knows what is not. Because there is a mystery here to be solved. I don't usually like mysteries in the detective novel kind of way. But some enigma now and then does no harm, right? Well, I must say that when the "real" Blue appeared for the first time, I had a feeling he was The One. But there were hints that other characters could be him, too. So I decided to be a little wary. I didn't want my hopes crushed under the heel of disappointment.
Thing is, I liked Blue but I also liked Real Blue. Maybe I was seeing what I wanted to see. And that blinds you, so I tried not to let it go further. I'm glad I was right, because Blue is really cute. I mean, Simon and Blue are both cute, and what they have is really cute. Their banter is comfortable and careful at the same time. They want more, but they also have enough. For now. You have to take into consideration that they are not "together" in the real sense until very late in the novel. This can shoo readers away but in truth I didn't care about this. Because what I got to see was enough for me. It's a feel-good kind of novel.
There is an alternation of episodes: one was about Simon's day to day, and the next one was the exchange of mails between himself and someone called Blue. What began with a quote posted in the high school Tumblr develops to friendship and to something deeper. It's a very subtle change, and I could fall a little in love with Blue with each passing message. But who is Blue? And if they meet in person, would everything be different between them? And if so, would it be a good "different" or a bad "different"?
I liked the total honesty of this book. Seriously, the friends, the family, the theatre play, the "blackmailing", the fuckups, the everything was worth it. Nothing was a tragedy but nothing was rainbows, either. I appreciate finding this kind of story now and then. I didn't exactly laughed out loud but I was definitely not bored at all. I was totally hooked and charmed by it all.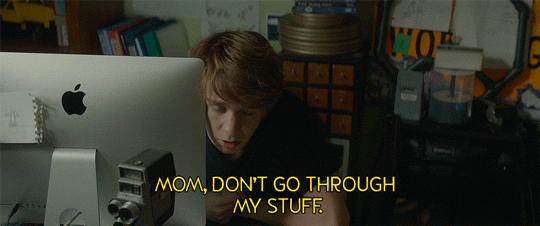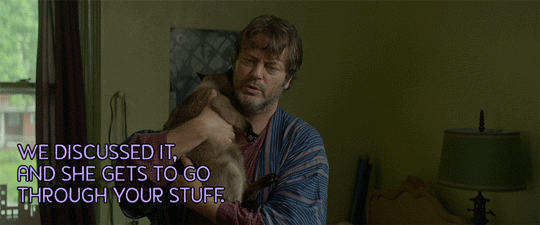 But I'm not only talking about the characters' attitude and feelings but about that obsession authors have about avoiding calling a spade a spade. Sometimes they say the character is "dark" and, consequently, I imagine him dark haired and maybe tanned if further information is given. But after several pages, sometimes the whole book, there is a scene where suddenly someone slips and you realize that when the author said "dark", he meant "black".


And I feel cheated. And that upsets me to no end. I mean, why are you so scared to say someone is black? It's very annoying having a picture in your head and suddenly realizing that it was the wrong one because the author "casually" forgot mentioning it before. It only demonstrates the author's self-consciousness instead of being straight and behaving in a natural way. I do not understand the fuss here, to be honest.


Simon has lots of friends and some of them are black. I loved how the author told the exact amount of information about each one of them without making a big issue out of it. I said before Simon acts as a true teenager and I must say that everything surrounding him had that same atmosphere of reality. With the dramas and not-so-dramas, with the successes and the fails, but everything wrapped in a hilarious and nonchalant mood that encouraged me to keep reading. Because one thing is undeniable: you drink these pages like water, you lose track of time and when you stop reading you realize you have almost finished the bottle. The author knows how to grab your attention and make you turn page after page without breathing.

I recommend this book.


PS: The closest style I can find are the ones in
After Ben
and
The Truth About Riley
.
Check out on Goodreads!