He'll do anything to save the ranch, including baring it all.
Aubrey Klein is in real trouble—he needs some fast money to save the family ranch. His solution? A weekend job as a stripper at a club in Dallas. For two shows each Saturday, he is the star as The Lone Rancher.
It leads to at least one unexpected revelation: after a show, Garrett Lamston, an old friend from school, approaches the still-masked Aubrey to see about some extra fun… and Aubrey had no idea Garrett was gay. As the two men dodge their mothers' attempts to set them up with girls, their friendship deepens, and one thing leads to another.
Aubrey know his life stretching between the ranch and the club is a house of cards. He just hopes he can keep it standing long enough to save the ranch and launch the life—and the love—he really hopes he can have.
Guest Reviewer: Chelsea
A book with strippers!! Squueeee, I don't care how cliche it is but I'm sorry, it just needs to be done… Channing Tatum gif…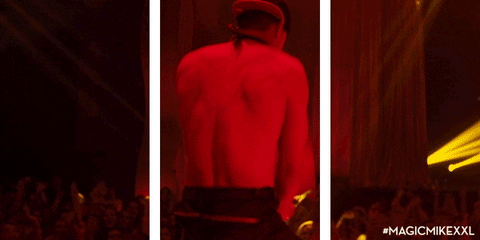 Just stare and enjoy for a moment...
Ok, now that's all done we can talk about this book.
This is a ranch/cowboy book with a friends to lovers story, together with some delightfully sinful stripping scenes interspersed.
So essentially, this is about Aubrey, who has worked hard to keep his parents ranch from falling further in debt and to help that along he strips in disguise once a week at a gay club. A chance encounter in town with Garrett, Aubrey's childhood friend, helps them both to reveal they're gay and they start up a relationship.
It starts off with the whole, 'we can't be physical because we're friends' thing but that lasted all of half a day. Not that I'm complaining, more physicality the better.
Aubrey is your typical perfect boy, he works hard, sacrifices everything for the people he loves and hates disappointing anyone. He was a bit too perfect for me, especially when he was all shamey about the stripping. You're good at it, you have fun you're not a fucking hooker for stripping down to your jock, get over it!! I just struggle to connect with characters that don't have that spark that brings them to life.
I'm not sorry to say it, but I wanted more stripping. Ultimately this was a friends to lovers ranch story and not a stripper story. As a ranch story, I think it was damn near perfect. It had small town prejudices, cowboys doing hard ranch work, church fates and money issues. It also had cowboys making out outside, which is also a must.
It was also a pretty solid friends to lovers story, despite the uncertainty of their relationship status at times. A few times I got a bit confused as to whether their relationship had progressed. They have their first kiss, and then time jumps forward three weeks. Same thing happened after their first time having sex. What had happened in those weeks, had they kissed again? Did that mean they were dating? Had they been too busy to see each other? It left their relationship on shaky ground for me, so when the 'I love yous' broke out near the end, I was like 'oh, so they were dating that whole time…'
So a stripper story this was not :-( Although all the dancing scenes were pretty hot, lots of grinding and clothes getting ripped off, it was definitely not the main event in this book. That last scene though, the private strip tease, that was yummy! (Although too short)
He twirled and pulled his shirt off the rest of the way, tossing it to Garrett, who sniffed it, smiled, and then rubbed it over his crotch.
So while I wanted more stripping I can't fault it for not being a strippers story, because it just wasn't. The ranching and friends-to-lovers relationship worked although I didn't really connect with Aubrey's character and that left me feeling that story fell flat.
For more information:
Dreamspinner Press
Goodreads
Booklikes