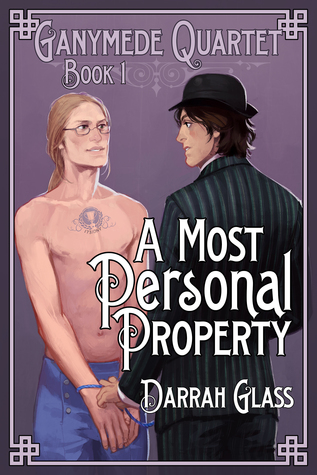 In the heat of August 1900, Henry Blackwell—rich, handsome, and painfully shy—anticipates the purchase of his companion slave, that most personal of properties, with equal parts excitement and dread. There are limits to what a gentleman might do with his slave and still remain a gentleman, and what Henry craves goes far beyond what's allowed.
Martin, a slave from House Ganymede, is the most beautiful young man Henry's ever seen, and he's ready and willing to do as Henry commands, but Henry's afraid to ask him for what he really needs. A master needn't care what a slave thinks or how he feels, but Henry can't help wanting Martin to like him anyway. If Henry could be certain Martin wanted the same things he does, he might be bold enough to reveal his secrets.
Unfolding against a backdrop of progress, privilege and turn-of-the-century amusements, the four installments of the Ganymede Quartet present an erotic coming-of-age fantasy of Gilded Age New York in which young men from the richest families form intense bonds with the slaves who serve them.
I read YA!!!
Well, what really happened was I saw the word 'slave', my pupils dilated and that's all I have to say about that. I regret nothing. This book was right up my alley. The alley labeled slavefic. Slavefic set during The Gilded Age? Yes ma'am.
One of my favorite movies (and books) of all time is Edith Wharton's The Age of Innocence. I like it because it's so deliberate and meticulous in its pomp and circumstance. Everyone with any social standing had to abide by an arbitrary and confining set of rules or be outcast. It's the very definition of keeping up appearances because there are always eyes on you, which made for a whole lot of repression. A Most Personal Property reminded me so much of it only from a 16 yr old's perspective. I skimmed a couple other reviews and saw the word "repetitive" more than once. Yes, it is necessarily so, in my opinion. That's the day and age and Ms. Glass is reinforcing the tedium. When you're building a world this vibrant and lush and using language this evocatively I can deal with a little repetitive.
A Most Personal Property is told entirely through Henry. Henry reminds me an awful lot of a beloved protagonist of mine, George from A Room with a View. Henry is introverted, pensive, shy, socially awkward and oblivious to social norms. He understands he has a role to play, but he doesn't understand why these rules are in effect nor what purpose they serve. He longs to be wanted and desired like his favorite swashbuckling couple from his monthly subscription of Pals. The trouble is his favorite couple are master and slave and that love is forbidden. In all other respects, this time period and its values are retained aside from slavery bit, so Henry being an invert is a grievous burden. He's very handsome and wealthy, both qualities he finds superficial and meaningless. He's not a good student. He's lazy. He's hormonal, moody
and possessive
. Also, his parents are both a waste of space, aside from his father barking at him periodically which cows him and does nothing positive for his self-image. His parents' companions are more parental to him if that tells you anything.
All Henry wanted in the world was for a boy who had the freedom to choose anyone or anything to choose him.
The elite in this society acquire a companion slave before entering their junior year of high school, a lifelong commitment. Henry is smitten with Martin upon first sight at the auction and Martin seems taken with Henry as well. The relationship development hurt so good. They're both desperate for one another but too afraid to make a move and, therefore, miserable. Well, Martin's in no position to make any moves here, but Henry doesn't want him to submit out of duty. He's a romantic and he wants them to belong to one another, to be lovers. Oodles of angst and UST ensue and I wouldn't have it any other way. If you've ever seen The Age of Innocence there is a scene involving a glove and it's one of my all time favorite scenes. There are two scenes in this book that reminded me so much of that scene it made my heart pitter patter.
Two things stood out as outstanding were the level of research that clearly was put into bringing 1900 NYC to life i.e. the language, the clothing, the class distinctions, the rituals. I appreciate research and Ms. Glass obviously did hers and I applaud her for it. The second was the character development. Henry and even his friends were so real I felt as though I were tagging along with them on their trips to the park and cycling and going to the arcade. Everything about Henry felt so authentic and genuine that I was honestly surprised to discover that this author was female. Bravo.
A Most Personal Property only covers three months with no cliff for an ending, but I'm left… well, bereft for one but wondering what time span the other three books are going to cover. I'm hopeful we'll get to see Henry and Martin as adults. I'm almost positive Henry will wend up on Wall St. since he's good with numbers, but there's also a world war looming as well as the roaring 20s, both of which would make for interesting reading. Plus, I'm wondering if Henry can hang on to bachelorhood or if he'll have to take a trophy wife to perpetuate the family name.
Ms. Glass, please write faster. I need the next one so bad. *grabby hands*
I would like to thank Netgalley for providing me with a copy of this book in exchange for an honest opinion.
Find out more on Goodreads.