Open Season (The Caeteran Tales #1) blog tour visits Boy Meets Boy Reviews! Celebrate with author Susan Stradiotto and IndiGo Marketing! Don't miss the author interview or excerpt! Enter in the $25 Amazon gift card giveaway!

Title: Open Season
Series: The Caeteran Tales #1
Author: Susan Stradiotto
Publisher: Stradiotto LLC
Release Date: July 19, 2018
Heat Level: 2 - Fade to Black Sex
Pairing: Male/Female, Female/Female
Length: 27,000
Genre: Fantasy, Science Fiction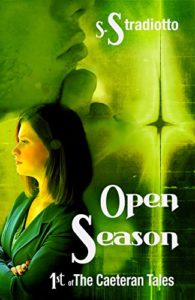 Synopsis
Elle Jones coveted an executive position.
Running from her past, Elle developed a strong drive. Her mantra: Executive by thirty! She landed the job and celebrated her long-awaited success. That was…until she left the office late one night. When she stepped from the elevator, her life changed. Three cloaked figures waited…
Andreas Javine had Elle in his sights.
Terrináe's Congress only allotted thirty-six slots for new entrants. When Javine missed his opportunity to nominate Elle, he resorted to alternate methods.
Yster yearned for her first entrant.
Thirty-six mentors had been selected, and Yster missed selection by one. For another Entrant Season, she would be relegated to serving the mentors who were gifted an entrant. That is…until her benefactor approached her with an unusual offer. She would have to pull double-duty, but…at long last… She had the opportunity!
The start to an Epic Fantasy Series that will take the reader between Earth and Caetera.
When did you write your first story and what was the inspiration for it?
I am certain that the first story I wrote has long since left my memory. The very first piece of long fiction I completed was a historical fantasy based on the life of Cleopatra.
Do you have a writing schedule or do you just write when you can find the time?
If only I were so fortunate to have a writing schedule. Full-time job and busy family tend to take priority, but I make time whenever I am able. What distracts me most these days is gaming with the family.
Briefly describe the writing process. Do you create an outline first? Do you seek out inspirational pictures, videos or music? Do you just let the words flow and then go back and try and make some sense out it?
Inspiration for me tends to come from human feelings, desires, or emotion tied to every-day situations. Open Season was partially inspired by a desire to depart a job in the corporate world (not my current one, I might note.).
Where did the desire to write LGBT romance come from?
My fiction isn't based on romance, but my work includes relationships of all sorts. Exploration of human relationships is a huge driver for my writing.
How much research do you do when writing a story and what are the best sources you've found for giving an authentic voice to your characters?
I do research when the story ventures into an area I'm not familiar with. You might say the characters have a life of their own within my head, and when they have a particular trait—like Gregor Phillary has an affinity for horses—I go digging. The Google-machine is obviously my best friend, and as I write fantasy, I'm normally looking to put my own spin on reality. Outside of research, I believe that first-hand experience is the best practice to enable immersive writing—which is always my goal.
What's harder, naming your characters, creating the title for your book or the cover design process?
Yes. 😊 I find naming a hard task. Visualizing is the easier part for me, but I'd rate naming characters and the book as equal. Once I've written the book, cover design typically follows pretty easily.
How do you answer the question "Oh, you're an author...what do you write?"
I write a binge-able science-fantasy series that takes place between Earth and an alternate dimension, Caetera, where a sterile society pilfers from Earth's society to perpetuate their own.
What does your family think of your writing?
I think everyone feels differently about it. My daughter loves it. My youngest son gives me a dirty look every time I mention that he should read it. My middle son says he'll read it, but still hasn't. I'm getting ready to throw in a dragon just so that he will. My husband thinks it's alright. They all support my writing though and give me the space I need to do it.
Tell us about your current work in process and what you've got planned for the future.
I am currently writing the 4th Caeteran Tale: The Vile Vasilias. This one goes back in time to explore the past of one of my favorite characters: Gregor Phillary.
I originally set out to write a single-volume epic fantasy, but soon realized that it would rival Lord of the Rings in length. Therefore, I broke it into a series that covers Elle's arc, but also delves into the arcs of the other characters. I have lots of work to get this series to completion, but every now and then, I venture off the path and write a short story. I've written two in the past year:
The Muse of Wynter
and
Golden Eyes
.
The Muse of Wynter
will be published later this year by my writer's group. I'm unsure if anything will ever come of the other one, but we shall see.
Excerpt
Javine puzzled over why she turned away just as their eyes met. But when she approached Alan, her reasons seemed logical. She was pristine, poised in her golf skirt and collared shirt. He went to the bar, leaned onto his elbows, ordered a Macallan single-malt—neat, and waited. He'd be patient, they'd come his way soon. And they did.
Javine forced himself to not blink against the irritating contacts that bothered his vision. The light surrounding Elle was still there, but muted. It annoyed him to have the acuity blurred, but the obfuscation was necessary. From the time he'd watched her over the years, Javine knew the colors of her glow—the marker that predicted Flare.
Andre Jordan, I'd like you to meet the new V.P. of Corporate Communication, Elle Jones," Alan introduced, making the predictable motions from one to the other.
Javine stood straight, scotch in one hand. Though his contacts and glasses obscured her glow, he'd seen the highlights before. Lavender streaks weren't a foolproof indicator, but he'd come prepared just in case. He offered her a gloved hand. If her Flare turned out to be touch activated, he didn't want to inadvertently give things away.
Coming from the range, Mr. Jordan?" Elle asked.
He raised his brows with a single nod to affirm, then said, "Elle, I understand that you come to Travelers from Jewel Systems?"
It's a pleasure to meet you, Mr. Jordan."
Purchase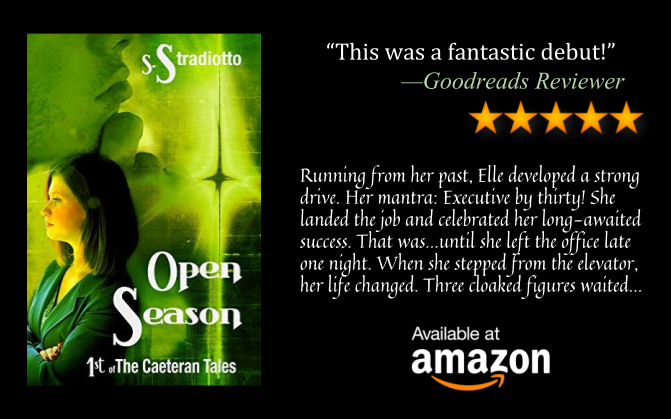 Meet the Author

My life in Prior Lake, Minnesota revolves around my husband, three children, and two dogs—a border collie named Chipper and a Bernese Mountain Dog named Delaunay. If you check out my Facebook page (fb.me/susanstradiottoauthor), you'll definitely see the BMD smiling back at you. I've been a Technology Project Manager for more years than I'd like to admit, but stories are my passion. I have always been a voracious reader, lover of worlds, and a "werd nerd." My infatuation with well-developed characters sometimes rivals my relationships with real people. I spend my free time writing, networking with other writers, and occasionally camping "up-north." If you're from Minnesota, you'll get the reference along with "hot dish" and "grey-duck." If you're not from Minnesota, you probably don't want to ask. Note that I'm originally a Texan, and that just never leaves you!
Happy reading and thank you so much for all your love and support!
Tour Schedule
Giveaway
a Rafflecopter giveaway