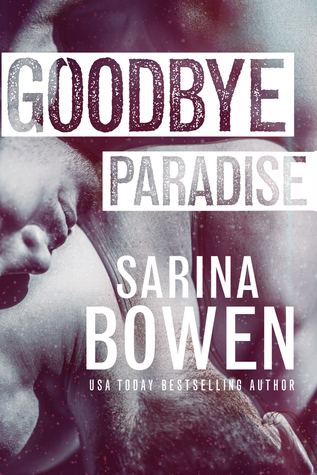 Most people called it a cult. But for twenty years, Josh and Caleb called it home.
In Paradise, there is no television. No fast food. Just long hours of farm work and prayer on a dusty Wyoming ranch, and nights in a crowded bunkhouse. The boys of the Compound are kept far from the sinners' world.
But Joshua doesn't need temptation to sin. His whole life, he's wanted his best friend, Caleb. By day they work side by side. Only when Josh closes his eyes at night can they be together the way he craves.
It can never be. And his survival depends on keeping his terrible desires secret.
Caleb has always protected Josh against the worst of the bullying at the Compound. But he has secrets of his own, and a plan to get away — until it all backfires.
Josh finds himself homeless in a world that doesn't want him. Can Caleb find him in time? And will they find a place of safety, where he can admit to Josh how he really feels?
It's official. I don't think Sarina Bowen can write a book that doesn't give me a case of The Feels. I didn't lahhhahuuvvv Goodbye Paradise like I have with other books of hers, but I did really like it. Regardless of whether or not I lahhahuuvvv or like her books I always have an emotional response. I find her books cozy and homey which is what keeps me coming back for more. She does friends to lovers and family dynamics, whether it be through blood ties or choice, really well, and I tend to gravitate to the latter.

Just to give a bit of background, Caleb and Josh have escaped from the same religious cult that Zach from her True North (which is MF) series did. They make their way to a farm in Massachusetts instead of Vermont which has been established by Maggie, another runaway from the Compound in Wyoming, and her husband, Daniel. Along the way they get picked up by an OTR truck river named Washington who turns into their first real friend outside of each other and a great secondary character.
Caleb and Josh have been best friends since they were kids. Josh never really fit in on the Compound and they have a vile habit of culling the herd, so to speak. Good thing Caleb's been planning for this day and has a semblance of a plan.
Josh has been gagaover his BFF since forever but failed to realize Caleb feels the same and his cluelessness was pretty adorable. Once that little tidbit is revealed these two can't get enough of each other, so there's not a lot of tension building. Both virgins, both filled with pent up need and both crazy about each other, but both have lived their entire lives in a highly repressed environment which I think Bowen handled well. They don't hop out of the closet ready to hit a Pride parade in full on rainbow regalia, though Caleb definitely handles the transition with greater ease than Josh.

Josh carries a lot of shame and fear of rejection from those he's come to care about which makes him more cautious and wary of coming out. His reasons are justified and what made me really invest in them as a couple was the fact that Caleb didn't push. Their relationship strengthens and intensifies as their narrative unfolds.

The world quieted down when I was in Caleb's arms.
Calesh (shipped!) are totes adorbs. I liked both of them as individuals and as a couple. They yin and yang perfectly. They have very little drama. They have chemistry out the wazoo. They're hard not to like.

I have to say I was surprised and maybe a little shocked at how bossy Caleb is during the sexy times and that he has such a potty mouth, but I ain't mad at it. He hit Google hard and made proper use of his time, it seems. Bossy in the bedroom is a hallmark of Bowen's and Josh likes to be bossed. A lot.

However, what I liked best about Goodbye Paradise, as I have with many of Bowen's works is how these two are accepted into this little community. Not just by Daniel and Maggie but Caleb's and Maggies co-workers, Washington and his wife and Miriam. They create their own little family and both of them begin to really figure out who they are, how to live freely and independently and what they want out of life rather than have it mandated by some religious fanatic with an ulterior motive.

Also, the HEA was very sweet and maybe caused an acute onset of allergies. Maybe.
There were a couple of editing issues that are uncharacteristic of Bowen's work but nothing too egregious.
If you're looking for a comfort read, look no further.
A review copy was provided.
Find out more on Goodreads.