5 reviewers: Ann, Fantasy Living, Optimist King's Wench, Reflection & SheReadsALot
30 short shifter stories... 30 various authors
6 consecutive Sundays...it's going to be a blast and a half!
Bring on the animal shifters of all types!
Today we'll be reviewing: C.S. Poe, Parker Foye, Meg Harding, Sara Stark & Charles Payseur!
Interested in purchasing any of these titles? Click the titles above their covers.
Love, Marriage, and a Baby Carriage by C.S. Poe
Theodore Reinhart is a young man looking for love. In San Diego. At a convention. For penguin shifters. WaddleCon is the go-to event of the year when looking for your life partner, but Theodore isn't comfortable with the game they've turned dating into, nor does the convention provide for the gay community. A mistake in speed dating table assignments puts Theodore in front of Wesley O'Neill, a handsome and confident model who lets it slip that he's definitely noticed the spark of attraction between them.
A perfect date ends prematurely when Theodore finds an abandoned egg in a bathroom trash can. Unable to leave it behind, Theodore and Wesley play a mad game of cat and mouse across the resort trying to keep it safe, all while growing closer to one another. Wesley may be the forever partner Theodore came looking for, but their relationship won't work if they don't make room for a little addition to the family.
Fantasy Living - 4 Hearts
WaddleCon!!!!!!!
That word, plus penguin shifters, and I knew this was going to be super cute. I got all excited, and started as soon as it hit my kindle. It is short, so I think most people could finish this on a lunch break, or maybe while dinner is cooking. A very satisfying piece.
Wes and Theo are just adorable together. They have immediate chemistry, and Theo feels that pull in his gut that tells him he has found his mate.
The dialogue in this was fun, and light. The culture of shifter-penguins was delivered through circumstances surrounding the whole WaddleCon experience, and the discovery of the egg. For a short story this worked really well, and gave me what I needed to understand how this whole mating thing worked.
The sexy stuff was brief, but effective. It showed this couple had sexual chemistry, and also a tenderness that would go beyond one night.
If you love light shifter stories, with unusual shifter animals, this will make you happy. It was everything I thought it would be; sweet, sexy, and a whole lot of fun.
SheReadsALot - 3.5 Hearts

KA-YUTE!
Can't be avoided...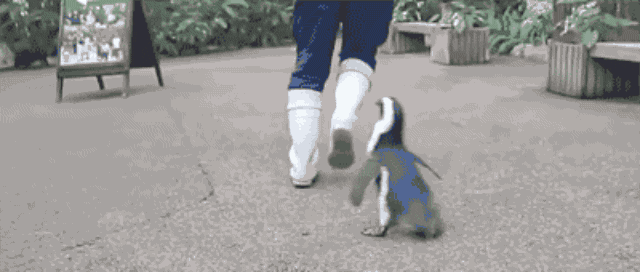 Don't even try.
Theodore is a 25 year old ginger MET tour guide & Magellanic penguin shifter who joins
WaddleCon
- a singles' penguin convention. The poor ginger sees the convention is geared to hetero couples once he arrives in San Diego. Things don't seem to be going his way until he meets a hunky fellow penguin shifter, Wesley. They strike up a conversation during a round of speed dating and Theo is adorably flustered. And for good reason, Wes is an underwear model and Theo is a virgin...
(A Magellanic penguin underwear model...you're welcome)
*gulps*
They meet up later that evening and Theo finds a trash baby! Well, more like a trash penguin egg. From there, his night gets even crazier. And through it all he finds his forever mate in Wes.
The story is short, shorter than I think it could've been. It had a strong start and decent enough finish. You can't escape the adorbz, if you tried. The dialogue was cute, the setup was cute...
It's told in Theo's 1st POV. We don't get a great sense of Wes since it's Theo's story and the short length. The main events, were entertaining but I feel like if this story was ever expanded it could be even better than what it is. Wes read more like an archetype of the unattainable (hot model), a nerd's wet dream. But he was kind of one note aka wanting in the drawers.
And no one is a bigger perv than me when I see a virgin character, but my gripe is this. If they've been saving it for however many years...don't you think it'd take a little time for the legs to open? Granted this is paranormal, penguin shifters mate for life...yadda yadda but it still read like is was more from Theo's side than Wes's
But I got the gist of the story. And there's a cute little fluffy ending that does what the title states. ;P
Cupcake - 4 Hearts
Penguin Love!!!!
This was my first experience with this author and it will not be my last. As a matter of fact, I wouldn't mind reading a follow up to this little nugget of shifter cuteness.
Theo and his salmon pants ensemble hooked me quickly. He's a little bit awkward and he's definitely disappointed to learn that his first WaddleCon is going to be a bust because it's targeted toward the heterosexual penguins. What do you do when you find yourself across the country in an odd salmon pant/plaid ensemble where you thought you'd be meeting forever partner of your dreams only to have those dreams dashed by an overzealous hostess?
Drunk speed dating turns out to be bountiful when he meets gorgeous underwear model Wesley O'Neill. They connect just like Theo's mama said back when he was just a chick. She told him he would just know and as cute as that is it wasn't even the best part!
They go on their first date and hilarity ensues after Theo discovers an abandoned egg in the trash. Wes is polished and suave as hell until he loses his glasses and Theo has to guide him around because he's blind as a bat without them. All the shenanigans bring them closer together and they both become so invested in protecting this egg, so much so that they put up with crazed husbands, a band of cronies hellbent on dispatching them from WaddleCon and drugstore glasses.
The banter is cute. The bathtub scene is cute. The shenanigans are cute. The whole damn thing is adorkable. Absolutely adorkable and it put a smile on my face.
Add "Love, Marriage and a Baby Carriage" on Goodreads!
Pastures New by Parker Foye
After a successful career as Illustrious Ruckus, three-time winner of the British Open, James Kirby has hung up his saddle. His experience as a horse in the eventing world doesn't exactly translate to two legs, and he's struggling to move on. James's quiet days at the family farm with his sister, Matilda, are interrupted by Archie Ievins, a sports journalist visiting to interview Matilda and snap a few photos of Illustrious Ruckus. Archie quickly endears himself to the family and to "Ruckus," and James falls head over hooves—only to be brought up short when his ex-boyfriend threatens to expose James's secret. How can James start something new when he has four legs threatening to come out of the closet?
Reflection - 3.5 Hearts
'He was more than a one trick pony. Horse. Whatever.'
I can't remember reading a book about a horse shifter before, and this is a great place to start.
James is probably more comfortable in horse form, but he does his best to be his most polished self when the gorgeous Archie arrives at the family farm to write an article about James' sister Tilda and her winning horse Illustrious Ruckus. Clearly that makes things just a little bit difficult if Archie expects James to be around when Illustrious Ruckus is in the picture.
This story full of charm and sibling banter, plus the thrill of the chase for James and Archie. I found Pastures New the perfect way to while away a lazy weekend morning. I guess what surprised me most was James' inner dialogue about his sister Tilly, along the lines of, '
worst sister in the history of siblinghood'....'worst sister in Britain.'...'Older sisters were the worst.'
Once I realised this was all tongue in cheek affection, including their slightly barbed banter, I settled in to enjoy the story much more.
James is not quite as smooth as he would like to be as he sets out to woo journalist Archie, but that doesn't stop him from trying to win Archie's heart. Meanwhile James also tries to work out what to do with the rest of his life now that Tilda and her 'horse' Illustrious Ruckus have 'retired'.
What I particularly liked about this story was the introduction of characters who had their own panache. James' boisterous family are there for each other both in celebration and when the chips are down. I was definitely rooting for them. A heart-warming tale of love and family with just a soupcon of adversity thrown in, making their everyday triumphs seem that much sweeter. Oh, and James niece has a thing for unicorns too. Sweet.
Add "Pastures New" on Goodreads!
To Arizona by Meg Harding
Dustin Charleston has just been traded to the Arizona Hares hockey team. As an otter, he's not too pleased by this. Arizona is dry, he's leaving his home behind, and he has to move in with a stranger. Things take an even steeper plunge when he meets his roommate.
Chandler Kipling is the captain of the Hares, a least weasel, and he's got a bit of a thing for his new teammate. Too bad that teammate seems to hate him. And Chandler's romantic strategies leave something to be desired. Will Dustin be able to get the message he's trying to send? With a little time, their nightmare might turn into a dream—if they can get past their differences.
Cupcake - 4.5 Hearts
I chose this story for the otter. Who doesn't love an otter? They're adorable in about a kajillion different ways! I figured Dustin would be a lonely otter shifter who maybe finds another otter shifter on his new hockey team and they would furtively shift and be adorable otters who hold paws while they laze around in a pool or something. I'll wait for you to conjure that heart melting image in your head.
AWWWWWW!
BUT NO! Never in my wildest dreams did I imagine the cuteness level to be cranked up DIE! DIE NOW! levels.
When I realized that the whole team were shifters of different varieties and they frolic in the captain's pool… let's just say the experience went next level. I was EEEEEEEing and AWWWWWing and squeeing and all sorts of to doing!
The team that shifts together stays together.
This should be printed on t-shirts.
Dustin and Chandler are former rivals, but since Dustin's been traded to the Arizona Hares he's got to try to make lemonade out of lemons. Chandler is cocky, bossy and kind of full of himself. He takes in Dustin which is awkward considering they snipe at each other on the ice all the time, and Chandler's got everyone calling Dustin "Buttercup" (which I totally loved, btw).
A heavy dose of UST is brewing between them and something happens that I *think* was maybe the other otter thing, but I'm not sure and that's really my only quibble. All the passive aggression and jealousy games I totally loved. I know. Don't judge me, but I like that stuff. I also loved the scenting, marking and possessiveness that Chandler trotted out in his courting ritual.
What I wasn't expecting was the hotness!
Chandler's kinda... toppy and dirty and naughty. *eyebrows* I wasn't expecting it but I recovered quickly and was absolutely in favor of #TeamToppy mating with his otter.
So, YEP! This was a win for me. I loved the team dynamics, the cuteness, the shifting, all of it. I'll be reading more from this author.
SheReadsALot - 4.25 Hearts
Well hello, Meg Harding! I love reading anthologies because you can discover new authors to check out. And I'll be looking for more Harding.
"To Arizona"
was funny, a little fluffy and a lot sexy. And it is unusual shifter jackpot: an otter and least weasel!
(least weasel)
*squee*
Not only did I feel like I won the unusual shifter jackpot, the story also uses a few fave themes - sport rivals to lovers, new man on campus and stealth courting!
Bonus points for the possessiveness!
In a world where shifters are known and are the only only allowed to participate in sports, Dustin, an otter shifter, was traded from his pro hockey team in Michigan to the Arizona Hares, his rivals. And most of all, he really can't stand the team captain, Chandler. With his 6'3" height, blond good looks and excellent hockey skills...there's nothing about Chandler that Dustin likes...okay maybe
some things
. Some really fun things.
The two have chemistry from the moment they meet, are made to live together, interact with the adorable menagerie of shifters (red pandas are the
"it"
shifter it seems) and have a bit of a communication/realization snag. One of the guys has a tendency to be oblivious and the other one doesn't want to be too obvious...but the reader obviously gets what they're aiming for: courting. I love the tenaciousness of a least weasel and the togetherness from the otter.
Hilarious, fun and sexy, "To Arizona" gives everything including locker room sex. It is a short length but it seemed complete. The teammates end up together and still give enough cute without making it sickening.
Recommended for readers who love fun, cute, and sexy all rolled together in this shifter delight.
Add "To Arizona" on Goodreads!
Buddy the Cat by Sara Stark
Noel is a lonely librarian who spends most of his time working, surfing dating websites to no avail, and hanging out with the cat who shows up on his balcony every night. When he meets Mike, he's finally found a man who holds his interest. But it soon becomes clear that there's more to the bird-chasing businessman than what's on the surface.
Ann - 2 Hearts
The premise of this quick read was right up my alley. I love the idea of the lonely, socially awkward librarian who finds his HEA. That's Buddy the Cat in a nutshell. Noel, the librarian MC of our duo works a lot and finds friendship in Buddy, a cat who shows up at his apartment randomly for dinner and cuddles. While the setup was adorkable, the execution was too awkward to pull it off completely. The conversations between Noel and Mike (human Buddy) were odd. Mike didn't feel fully fleshed out so his cat like mannerisms in his human form just made him seem . . . weird. Then Noel's reactions were abrupt (I'm guessing that was his social discomfort) but it was more offputting than charming. So, Mike and Noel got their HEA and I was told they were in love, good for them, but I didn't get wrapped up in it while reading their story.
Reflection - 3.5 Hearts
'"Where did you even come from? Where do you go every night? It's confusing you know," Noel went on. The cat looked up at him the blue eyes full of understanding.'
I am just a little surprised by the lukewarm reception this story has so far receive. I for one think it is charming. Then again I have a huge soft spot for guys who like books, and casts. Although I don't currently own a cat (or perhaps that should be a cat doesn't currently own me) I am enthralled by their feline elegance and delightful sense of feline entitlement.
The combination of Noel's social awkwardness and his search for love is endearing. He finds himself adopted by Buddy, a beautiful cat who maintains his independence whilst spending time with Noel. Buddy is the catalyst (heh, pun) that helps Noel reflect on his life and to share his innermost contemplation out loud.
Noel is attracted to his sexy neighbour Mike, and needs to brush up on his chat up skills. There definitely seems to be a connection plus when Noel gazes into his blue eyes he can't shake the feeling their paths have already crossed.
I enjoyed how both Mike and Buddy take their time to decide whether Noel is indeed the man for them. I thought the author captured the idiosyncrasies and independence of a cat nature and although the writing didn't quite spark for me as much as some of the other tales in the anthology but it is quite charming none the less. Books and cats and love, what's not to love?
Add "Buddy the Cat" on Goodreads!
Fieldwork by Charles Payseur
Agent Ignacio Ritter is content serving the CXO, the Central Xenomorph Organization, from the safety of his desk. He has good reasons for avoiding fieldwork like the plague: his parents died in the field, leaving him to be raised among wolf-shifters. Because of his adopted family, everyone thinks he is a wolf, a lie that protects him from the ridicule he'd face if he revealed the truth.
When the charming and dangerous tiger-shifter Agent Reed Daily chooses Ignacio to help close the books on a gang threatening to tear Chicago apart, Ignacio can't refuse. Perhaps it's the chance to avenge his parents, or perhaps it's the tight fit of Reed's suit and heat Reed's smile ignites in Ignacio. When the chips are down and the whole city's depending on him, will Ignacio prove himself a man or a mouse?
Reflection - 4 Hearts
'...Ignacio felt an overwhelming danger he didn't want to run from, that he wanted to embrace'
Hands up, this short shifter story is completely adorable. Agent Ignacio Ritter is more than dubious as to whether his talents or nerves are suited to working in the field, especially as he has a passion for forensic accounting. The CXO, Central Xenomorph Organization has other ideas, and Ignacio finds himself partnered with Tiger shifter Reed Daily, who seems keen to know both man and shifter on a much more personal level. Ignacio likes that most people assume he is a wolf like his foster siblings, although Reed seems to be able to sniff out the differences.
I loved this story as Ignacio reflects on life, and the perceptions of others whilst learning to adopt some of Reed's slightly more adventurous approach to life and love.
This story has it all, humour, action, adventure, friendship and the prospect of much much more. I was totally delighted and find myself avidly checking for other stories by this new to me author.
Add "Fieldwork" on Goodreads!
All copies provided for an honest review.
See ya next week on the same day, same uni channel!