A sexy stripper attempts to escape his dangerously obsessed boss while searching for his missing younger brother.
Stripping used to be fun, lucrative and a place for Dakota to practice for his professional dancing career. But the owner of Glitter Boys wants Dakota for himself and will stop at nothing to possess him. When his thirteen-year-old brother runs away from home to escape their abusive father, Dakota is determined to find him before something awful happens to him on the streets.
Patrol officer Reed hasn't been attracted to a man in a very long time, but when he's called to an assault in progress at the LGBTQ teen shelter, a young man approaches him, begging for help in finding his missing brother. An instant spark occurs, but he pushes it away. When the same man is attacked outside a strip club later that night, he discovers the desire is mutual.
As the two men learn more about each other and become closer, the specter of his obsessed ex-boss remains. In addition to that, Dakota has to fight the system to gain guardianship of his brother and keep him out of foster care. Dakota doesn't know if the hunky cop he's fallen so hard for can handle a relationship with an ex-stripper struggling to raise a teenager. But, will Reed be able to give up dating women for good and dedicate himself to their new family?
Reader Advisory: This book contains scenes of sexual intimidation, scenes of mild physical assault and threats of sexual violence.
Publisher's Note: This book can be read as part of a series or as a standalone novel.
I love strippers. Any kind really. But especially strippers who wear these
...and dance on these
Yummy.
So Dakota starts out in a strip club. He's trying to save for dance classes because he wants to join a dance show in Vegas, more like this…
Instead of this….
Can't you do both though?! For me?
While he's trying to work through trouble with his crazy stalker boss, his mother tells him that his brother is missing. So he attempts to enlist the help of Reed, a patrol officer who responds to a call at a local LGBT youth centre where Dakota is searching for his brother.
Dakota and Reed have chemistry. Lots of lovely chemistry. Except while Reed has always known he was bisexual, he has actually never been with another man
that way
Butt virgin?!!
I really enjoyed the heat between these two. The sex was aggressive and awesome. Dakota might be only twenty-three and wears tiny shorts to work, but he is definitely a dominant personality and goes for what he wants.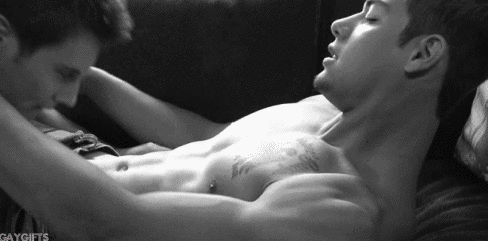 As far as the plot goes. Meh, it was all right. It centred mostly around Reed and Dakota getting to know each other, as well as Dakota working out how to get custody of his younger brother. The rest of the drama going on around them was easy enough to swallow. Being the seventh book in the series, I don't know if prior books tie in, or if they're all standalone stories that are set in the same world. I didn't feel lost at all, and there was only a hint of some people Reed knew that may have been introduced in prior books or that had background information that may have been interesting.
Overall, I enjoyed this story. It didn't blow my mind, but it was a solid read that gave me enough of the things I love to get absorbed in it.
Recommended for those who enjoy a solid contemporary romance, with a small amount of action, characters with an age gap of ten years or more, and some hot dirty talk.
There is some violence in this, some suggestion of domestic abuse, and stalking, but it is a very small portion of the story.
Check out on Goodreads!