A workaholic teacher and a cranky blacksmith investigate a haunted orphanage in the remote Scottish Borders. What they find together might help them heal the wounds of their pasts… if they survive.
When the charity Leon works for inherits the orphanage, he travels north to see if the site is suitable for a new school. But Vainguard is a place of dark secrets, and Leon unearths a mystery about four children who died there in 1944—a tragic tale with an uncanny connection to the death of Leon's parents.
Still bitter and guilt-ridden over his daughter's death, farrier Niall joins Leon in uncovering Vainguard's cruel history, including not just abuse but a tale about a vengeful spirit preying on local children. As the orphanage's disturbing past comes to light, another child goes missing.
Niall and Leon know they don't have long before the child falls victim to a legend straight from the Borders' blood-soaked past.
4.125 Hearts average
Adam - 3.75 hearts
Amy Rae Durreson always manages to get the right mix of romantic and downright spooky!
Leon is sent to the remote Scottish Borders to explore an opportunity to open a new charitable school in the region. He receives a less-than-happy welcome from Niall, the local farrier.
But even more unsettling is the forbidding building, Vainguard, that Leon was sent to investigate - and it becomes even more so as the days pass.
I'll admit that I don't handle paranormal suspense/thrills that well. I
will
flail at jumpscares. But what really gets to me is atmosphere.
And this book nailed atmosphere with a dark and brooding tension that slowly builds.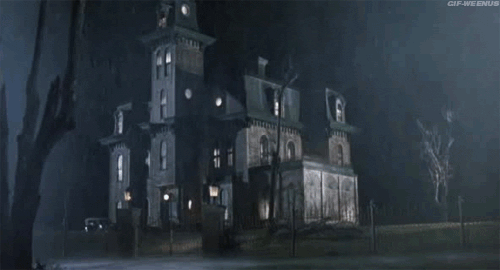 Consider me appropriately creeped out!
The story follows Leon as he discovers the horrifying details of Vaiguard and the surrounding area's past. And how it all connects to him, with past and present colliding.
I really liked Leon. He has some serious blinders on when it comes to his adoptive family, but his heart is always in the right place.
Niall, for his part, is a bit of a cranky asshat at first. But once he looks past his own anger and sorrow, he can't help the gruff affection he develops for Leon.
This isn't a steamy book at all, but the connection between Niall and Leon is palpable.
The romance between the two men builds gradually, with many ups and downs. They're both skittish and have a lot of baggage.
Leon still deals with the anxiety and flashbacks caused by the childhood car accident that killed his parents, while Niall's sorrow for his deceased daughter is more fresh.
And yet the draw is undeniable. They become each other's shoulder to lean on, and heal together.
Their relationship grows in tandem to their discovery of the secrets of Vainguard. And with that discovery comes the realization that their own sad stories are intertwined.
I won't give away the plot, but I will say that it was creepy enough to make my heart pound at times. Nothing like murderous spirits to really get the blood pumping.
The resolution was wildly entertaining, and gave Leon and Niall the happy ending they deserved!
If you're looking for a paranormal MM thriller, I'd definitely recommend 'Something Wicked This Way Comes'!
Ann - 4.5 Hearts
This book was full on atmosphere and a half, I got sucked into the world of wicked right away. I do love me a creepy ghosty story and Something Wicked This Way Comes delivered. There were MCs I connected to, a haunted orphange, likable secondary characters, some light horror and some optimistic romance.
The mystery that surrounds Vainguard is fascinating and not overdone. By that I mean, it's balanced with good character development and a fully fleshed out tale beyond just the mystery of what happened to the orphans. And the author tied it all together in a way that made the story flow so well, I didn't want to put it down. You know how sometimes, you'll be reading a book and it shifts gears in either time or plot and you get a little bummed because you were just immersed in that particular plot point and you had to refocus? That doesn't happen here, it just, well, it just flowed. The author struck a balance among all the elements that just plain worked from start to finish.
Leon and Niall are opposites on paper in just about every aspect, but they were the good kind of opposites that complement one another and appreciate their differences. I liked them both separately, even in Niall's grumpiest of states, but I got even more out of my enjoyment when they started falling in more than just lust. They really brought the best out of one another and they showed me how they felt, I didn't feel like I was being told about a romance.
The mystery was heartbreaking and just supernatural enough to keep me on edge, but not so much that the humanity was lost along the way. There was a hopeful air that made me look forward to keep on, keeping on to see what happened to the orphans, what the hell happened to Niall, and how was Leon going to make Vainguard work for the kids (being that it was haunted and evil and whatnot).
The resolution of all the things was satisfying and not so neat that it brought down the mystery that had been built. Niall and Leon deserved every bit of HEA they worked for.