E.M. Hamill and IndiGo Marketing visit on the Nectar and Ambrosia (Amaranthine Inheritance #1) blog tour! Read the exclusive except from the new urban fantasy and enter in the Nectar and Ambrosia eBook giveaway! Up to five lucky winners!

Title: Nectar and Ambrosia
Series: Amaranthine Inheritance #1
Author: E.M. Hamill
Publisher: Star Bard Books
Release Date: June 30, 2018
Heat Level: 1 - No Sex
Pairing: Male/Female, Male/Male
Length: 81576
Genre: Fantasy, urban/mythical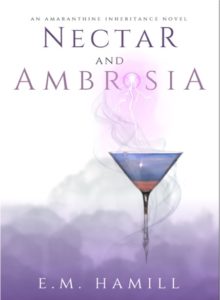 Synopsis
Callie, a Classics major, flees home to protect her family from a monster straight out of mythology. Visions lead her to Nectar and Ambrosia: the weirdest pub on Earth, where inter-dimensional travelers with attention seeking issues get drunk in between the A-list celebrity lives they create. They can't pretend to be gods anymore—not since a treaty with the current Supreme Deity promising they won't intervene in human affairs.
The Doorkeeper of this threshold, Florian, rides herd on the rowdy Amaranthine and offers her shelter and a job. Callie likes the lonely, mysterious bartender more than she should. For Florian, her presence is a ray of light in the gray monotony of his sentence behind the bar, but he keeps a cautious distance—the truth of how he became Doorkeeper could change Callie's perception of him forever.
When angels show up for a war council over Zeus's irrational mutters about a comeback, Callie has uncontrolled visions of an apocalypse. Ex-gods realize she's the first Oracle Priestess in generations. All Callie wanted was keep her parents safe, and now it seems she must sacrifice her future to keep the rest of humanity safe, too. Ambrosia could be the key to harnessing her visions— or it could cost her life.
War is coming. The threshold between worlds has never been more fragile. Callie must discover who is pulling Zeus's strings and avert the final battle—before the immortal vying to become the next Supreme Deity kills her first.​
Exclusive Excerpt
While Florian tended to Big Z, Callie interrogated Hermes in search of validation for her burgeoning acceptance. They sat together in one of the booths out front and the former messenger, who claimed to now be a lawyer for the gods, indulgently fielded her rapid-fire questions as he ate the remainder of the olives from Florian's garnish tray. His funnel-shaped glass overflowed with green spheres and a token amount of alcohol.
"You might try a drink with your olives, sometime. That's a pretty serious habit you have there," Callie noted.
"Silence, mortal scholar. I'm allowed my vices. I don't have many others." He popped more into his mouth. "So what other burning questions do you have?"
"So, why would gods bother taking on a human form at all, or an animal one? I always wondered about that."
He shrugged. "In our native form you'd be unable to perceive us as anything but bright lights or energy. We take on whatever appearance will get us where we need to go, or in Zeus's case, incognito to avoid pissing off Hera."
The last part of the sentence emerged
sotto voce
, and Hermes looked over his shoulder as if expecting Hera to appear. She giggled, glancing with cautious guilt at Zeus's back.
"Interacting with humans is more practical in a corporeal body. We can be male or female—or both, depending on the situation. It makes it easier for you to relate to us, and there are distinct advantages in the field of biology." He waggled his eyebrows suggestively, and Callie snorted, amused.
"Yes. Rather prolific advantages, as I remember."
"Not so much, anymore." He shifted, and became serious. When he spoke again, his voice held gravity. "There are rules in place now that make it less practical to procreate with humans. We can't intervene in our children's lives in any way that would alter their destiny so the decision should be given more consideration than it gets. Conception happens without fail unless we take some pretty drastic precautions. In most cases, it's a temporary decision and a temporary body, but we become governed by emotions that aren't the norm for our kind when we take on a permanent human form. We're not big on humility or love or being good parents unless we're constrained by the human condition."
Hermes went silent for a moment, an odd, wistful expression on his face as he regarded her. "Every now and then, we decide to live out a human lifespan just for kicks. But biology can't be cheated. When we truly become human in this world, eventually that persona is going to die of old age or as a result of abuse to which the body is subjected. Like that one did." He jerked his chin at the drunken Zeus, still disguised as a now-dead rock star. "Losing this identity has been exceptionally hard. Nobody's ever seen him like this. He didn't even mourn losing Henry the Eighth this badly."
"So, the cult of celebrity has become the new worship?"
Hermes looked impressed. "Score one for the lady. You worked it out in no time at all."
"Not that hard to see. Some of those celebrities are too perfect, or too weird to be human. Tom Cruise?"
"Trust me, not one of ours. The celebrity or rock star status works for some of us. Me? I prefer to be the normal everyday Joe with power, money, and good taste that everyone else wants to be." He saluted her with his martini. "Envy and imitation work almost as well as fame, without the paparazzi. They suck."
"So how many are professional athletes?"
"Not as many as you might think. There are a lot more porn stars."
"Eww." Callie wrinkled her nose.
"We take attention where we can get it."
"Don't take this the wrong way then, but Hermes was always one of my favorites." Her face heated up and she covered her eyes, confused at her own reaction. "Oh my God, I sound like I'm fangirling."
Hermes laughed. "Thanks, but I have a boyfriend. I'm flattered. Don't worry, your admiration is appreciated for what it is."
"When I was little I loved the story about stealing Apollo's cows. Dad read it every time I asked, even though he must have been sick of it. I know it's probably allegorical."
"Oh, no, that one's relatively accurate. It didn't take much to impress people back then, but making cows walk backward isn't as easy as it sounds."
Purchase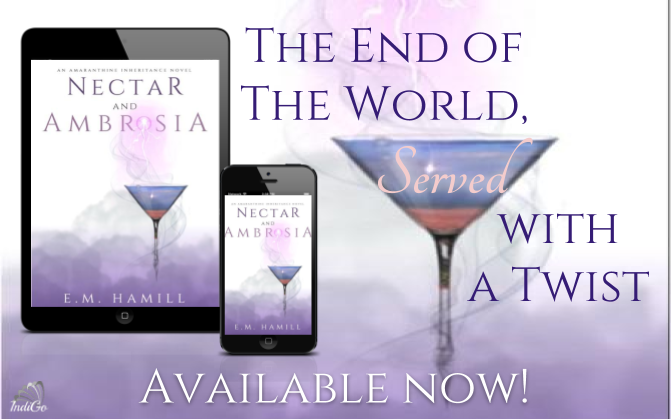 Meet the Author

Elisabeth "E.M." Hamill is a nurse by day, unabashed geek, chocoholic, sci fi and fantasy novelist by nights, weekends, and wherever she can steal quality time with her laptop. She lives with her family, a dog, and a cat in the wilds of eastern suburban Kansas, where they fend off flying monkey attacks and prep for the zombie apocalypse.​
Tour Schedule
Giveaway
a Rafflecopter giveaway