Professional football player Hunter Davis is learning that saying he's gay is very different from actively being in a relationship with another man—especially in the eyes of his teammates and fans. So when Hunter needs a personal assistant to keep him organized, he asks for a woman in order to prevent tongues from wagging.
Montgomery Willis badly needs to find work before he loses everything. There's just one position at the agency where he applies, but the problem is, he's not a woman. And he knows nothing about football. Still, Hunter gives him a chance, but only because Monty's desperate.
Monty soon proves his worth by saving Hunter's bacon on an important promotional shoot, and Hunter realizes he might have someone special working for him—in more ways than one. Monty's feelings come to the surface during an outing in the park when Hunter decides to teach Monty a bit about the game, and pictures surface of them in some questionable positions. Hunter is reminded that knowing he's gay and seeing evidence in the papers are two very different for the other players, and he might have to choose between two loves: football and Monty.
Listening Length: 6 hours 11 minutes
Narrator: John Solo
NFL star Hunter Davis is the most disorganized player on the team. He needs a personal assistant. Monty Willis is desperate for a job and so goes to the local employment agency. Though he knows nothing about football, Monty's determined to keep the job. Hunter is amazed by how much easier his life gets once Monty takes control.
The two soon begin falling for each other. Hunter's not in the closet, but being out and being in a relationship with all of that scrutiny are two very different things. If the two are to be happy, Hunter will have to decide whether his career is worth the risk of a gay relationship.
John Solo did a good job with the narration. The different voices fit the characters, and the author injected emotion into his narration according to the situation, so it didn't feel wooden. I did have to speed up the pacing a tad, but overall this is a solid audiobook.
I don't read many MM books with a sports theme. The ones I do read are usually about hockey. But I didn't need to worry about not getting the football references. The actual football in the book is minimal, with most of the focus on Monty and Hunter's relationship.
That being said, I did appreciate the opportunity to fantasize about hot football studs. Betty knows what I'm talking about: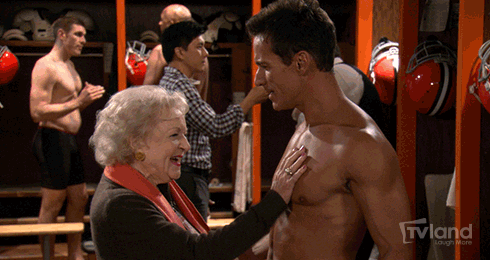 Though Monty is immediately attracted to Hunter (totally understandable), their relationship takes a while to get going. Hunter is very protective of his privacy, and so it takes him a while to get used to Monty. But once Hunter realizes that Monty's only concern is to look out for him, he slowly begins to see Monty in a different light.
This is one of those books where readers actually
see
the MCs fall in love. It happens slowly as Hunter and Monty become accustomed to having each other in their lives and get to know one another.
The actual falling-in-love part is a fairly smooth ride. Hunter may not want a relationship out in the open, but he doesn't deny that Monty makes him happy. And Monty may not know a single thing about football, but he knows that Hunter's a special guy.
Plus, they're pretty hot in bed. Hunter puts those muscles to good use.
The bump in the road comes when the media gets wind of their relationship. The double standards and homophobia were blood-boiling, but that's the sad truth of the world we live in.
What I really didn't like was the Hunter's father wasn't held accountable for his role. The man was an ungrateful leech who saw Hunter as a ticket to fame more so than as his son. I wouldn't have minded if Hunter had completely cut the man out of his life.
Even so, I liked the ending. Monty and Hunter get the HEA they deserve.
This book was predictable, but it's enjoyable in an easy-to-read kind of way. If you're looking for a simple low-angst MM romance with a sports theme, give 'The Playmaker' a try.
Find on Dreamspinner Press or Goodreads!