Happy New Year Everyone!!!
2017 lies ahead
With books to be read,
And adventures to be had.
Wishing you all find fulfillment and joy
All year long!
This week we have T.J. Nichols, Noah Willoughby, B.G. Thomas,
Charles Payseur, David Connor,
and L.A. Merrill!
ICYMI:
Week 1 | Week 2
|
Week 3
|
Week 4
|
Week 5
| Week 6
For vampire Charles Redfort, Christmas is a bitter reminder of the day he was killed by a werewolf. After fleeing the vampire army he was created to serve in, he has lived in exile in England. Once a year he allows himself to tell the truth about his life over dinner. Then he eats the man he's hired for the night.
Blake Wells is an engineering student by day and escort by night. He works Christmas because he doesn't want to see his father, and his mother doesn't want to see him. When he meets Charles, he thinks he's gotten a bonus present that he can't wait to unwrap. But as the truth is revealed, Blake will have to think fast to live until morning and convince Charles to give up his lonely life.
SheReadsALot - 4.75 Hearts
"What the hell? I don't do blood play?"
Charles kept him caged in the chair and trapped by the table. "I can assure you I am not playing."
Well...it might be too soon to call it since we have just one more week of our Jizzmas reviews, but this is my FAVE of the bunch! (I've started and faltered with more than you know)
THIS IS HOW I LIKE MY VAMPIRES WRITTEN!
Good lord...hands down one of my fave 2016 vampire reads. And it's just 39 deliciously deviant pages. (And I have so many quotes saved)
Charles is a 400 year old vampire who indulges himself and revels in his baser needs for death, one time of year, Christmas day. He hires a rentboy, Blake and rents out a penthouse suite in a lavish hotel, plans the night accordingly. Blake's escorting to pay his way through college (cliché yes but *shrugs*), has virtually no familial ties and needs the cash his new client offered. What Blake thinks is a jackpot client: not only is he being paid highly, he gets to spend it in a posh hotel and eat a fancy meal.
Only thing is...Blake
is
Charles' dinner.
I read this author's work in another anthology -
A Wolf's Résistance
. Nichols writes paranormal/urban fantasy pretty well. Strong hand in setting the scene and I enjoy Nichols' characters and premises.
The Vampire's Dinner
surpassed what I expected.
Why this was magical?
It's the little things that will always get my attention. Here the author portrayed a 400 year old being in present day. Charles spoke formally. He was a warrior, an assassin, not used to being overt. His thoughts read as such. When we're shown his thoughts, I bought it. Blake is scared shitless. BUT he's a rent boy first, where he sells himself and acts to his clients specifications. Blake was the ultimate actor, thought on his feet and used his wits. My kinda rent boy! ;P
The story ends HFN, as I think is fitting for the setting and tone. Any semblance of romance or HEA would ruin the effect the author is going for. The open-ended feel of that fateful night just lends more to the mysterious dark ribbon entwined. Will the bargain actually make it to the agreed upon terms? Can the pair be more than john and client? What's in store for their future? Part of me wants to learn more, but the other part that responded to this story...loves it exactly how it is.
The Jizzmas spirit is nonexistent here. Christmas is just the prop, thankfully in the background.
Not recommended for those who need on page penetrative sex, HEA and definitive romance.
Recommended
for readers who can handle a little dark, mystery and fangs. Who doesn't like reading about predator and prey having an agreement from time to time?
Don't mind if I do.
I'm definitely checking more of this author's work.
Chelsea - 3.5 Hearts
I liked this one, not the best I've read, but most certainly very enjoyable. Charles is a vampire but only allows himself one night to kill his victims, Christmas night. This Christmas his victim will be Blake, an escort trying to get through university with no real family who wants him.
This story takes place all in one night and due to this it only ends in a HFN, if that, and while that is definitely not a preference of mine, it would've felt rushed if there was anything more. The good thing is, because of the short time-span we had really nice character development and story progression.
The sexual tension was great and the sexy time at the end was nice and sensual. I would've liked an epilogue that showed 2 years later and how their agreement was going, but it was still enjoyable as it was.
Sara - 4.5 Hearts
I really liked this one. I love a good vampire story where they don't sparkle and Charles, well he kinda reminds me of the vampires I started reading when I was younger or even my most favorite vampire, Spike.
That being said.
I loved the idea of this; a 400 year old vampire giving himself one night, the anniversary of his death to indulge in what he truly is. Charles chooses the night to plan a dinner with a companion and then have the companion for dinner. The idea that Charles cannot eat anymore but tastes the food through his dinner's blood give way more meaning to the whole wheat grass and pineapple juice deal. You know?
Blake works as an escort to put himself through university and gets way more than he bargained for when he walks into Charles' hotel room. I liked Blake. I liked that he took what was in front of him and decided to make his own future. He challenged Charles and truly enjoyed being in his company and all that went with it. He gave Charles a chance to be more and what is more romantic than a vampire who wants to not be alone? Le sigh. Yeah. This one was good and I would have loved it to be longer.
Find out more about The Vampire's Dinner on Goodreads & Dreamspinner Press.
Being rich has its advantages, but it is also rife with suffocating pressures and family telling Chandler Buckingham how to live his life. When his assistant offers to help him escape the mounting obligations of the holiday season by running away to Hawaii, Chandler jumps at the chance. Only to find nothing is quite as he'd expected.
Micah Keolu has lived in Hawaii all his life. He has to work two jobs and has little time for a social life, but his loving family and the island beauty around him have given him a heart as big as the ocean. And then one day he rescues a man trapped in an elevator in the building where Micah lives and works maintenance.
The unexpected happens as they find themselves drawn together, only to learn there is more to each other than meets the eye. Can two men from very different worlds find a way to enrich each other's lives? Maybe the magic of the holidays just might bring them lasting joy!
Sara - 4 Hearts
The title is one of my favorite Christmas songs performed by Bing Crosby and The Andrews Sisters, so of course that was the first thing that came to mind with the title. The second came from the blurb and myself having lived on Maui for two years. I couldn't resist a Christmas story set in the Sandwich Islands now could I?
This was a lot of fun. Chandler is suffocated under his privilege and needs a break. His best friend and assistant Tim, sets him up in Hawaii under the family radar to get himself together. But where he is setting up, also lives the adorable local Micah who not only rescues Chandler from a stuck elevator but gives the ginger boy a taste of what living Aloha really means.
I loved the bits of the islands in the story. From the food to the thoughts on the folks vacationing - we used to joke you could tell them by the car they rented - to Santa's big entrance, it took me back to my own time on the island and I appreciated the touch the authors gave.
But really, this was sweet and Chandler's deal for not liking the holiday was sad to read but man, the way Micah handled it was so swoony. Sigh.
Another fun read from this year's calendar.
Find out more about Mele Kalikimaka on Goodreads & Dreamspinner Press.
Rex Devious (Dr. Devious to meddlesome do-gooders everywhere) can go toe-to-toe with superheroes without blinking an eye. So picking out a Christmas present for his new boyfriend should be no problem. After all, he and Sanjay seem perfect for each other. But with a terrible track record for finding gifts that won't scare his potential partners away, Rex is paralyzed with insecurity. Until, of course, he decides to change tactics. Instead of having to pick out that perfect present, why not just destroy Christmas altogether? If his nemeses (or his conscience) can't stop him first, he might just become the supervillain who stole Christmas.
Fantasy Living - 4 Hearts
Rex is hard at work, trying to come up with a plan to destroy Christmas before it is ruined by his clumsy gift that will run Sanj off. All his past gifts have failed to net him a long term relationship and he is tired of trying to find the perfect gift, so he will destroy Christmas before it has a chance to destroy his plan for a relationship. But none of his plans are working. Not when Superheroes keep crashing into his house and ruining his inventions. So the quest for the perfect gift and subsequent break up seems eminent.
This was the sweetest story. A mixed bag of anti-hero behaviours, set in an alternate world where Heroes and Villains are known to the population. Rex is trying to woo Sanj, and destroy Christmas at the same time. While slightly humourous, this is mostly feel good fluff, and Rex doesn't seem to be a bad guy, even as a Villain. All he wants is a boyfriend who appreciates him as he is.
I thought the plot was great, and the execution was spot on. The writing was tight, and it was very engaging. It certainly presented my current feelings about Christmas this year. The dread of not knowing how to make people happy with gifts that miss the mark. I felt for Rex, and his mission to get Christmas gone, so he could keep his man.
I think anyone who enjoys light fluff, will enjoy this story. It had the perfect balance of Christmas dread, and Christmas cheer. Rex was relatable, and I connected with his plight. A great story to end my 2016 on.
Chelsea - 4.5 Hearts
This was great! I love superhero stories especially when they're super corny and this one was absolutely perfect!
"I'm so sorry," Rex said. "I'm guessing that's Firebrand and Scream Queen here to destroy the device that will cause a massive earthquake, splitting California off from the rest of the country, unless the President grants me sovereignty of these islands and a hundred billion dollars."
"Oh," Sanj said. "I'm sorry. Do you need me to go?"
Rex or 'Dr Devious' was hilarious. He was all sneaky plans and evil laughs and I enjoyed him immensely. He was also a super sweetheart, not that he'd want to hear that. His biggest hang up with Christmas is that he spends so much time and effort building these elaborate machines for presents, and his partners don't always… appreciate them.
Sanjay was not as fleshed out, but he was sweet and he really liked Rex, so he was alright with me.
The romance did take a back seat to Rex's evil plans, but the sex scene at the end was hot and…. oddly funny.
Super enjoyed this one and will definitely read it again next year!
Sara - 4 Hearts
ACK! This was so freaking adorable!
I won't say much about it as the blurb set it up wonderfully but Rex, our unsure super hero, was so sweet with his worries about getting Sanjay the perfect gift and then trying to destroy Christmas and failing. His epiphany about the holiday and who he would spend it with led to one hell of an amazing present and OMG I WANT ONE! Totally want one.
The end was super sweet and made me giggle. What a fun and new twist to a holiday story.
Jenni Lea - 3.5 Hearts
Well, this was just too adorable for words! I loved the whole supervillain and superhero storyline. It was over the top and ridiculous - just how I like it.
Rex is a supervillain, complete with secret island lair and everything. He's really digging Sanjay though they have only been dating for just a short while. Sanjay is so sweet and loving and is even understanding when Rex's villainous life gets in the way of their time together. Everything seems to be going great until Sanjay brings up Christmas. You see, Rex is a terrible gift giver. Every gift he has given to a significant other in the past has ended in disaster as well as an end to the relationship. He doesn't want to lose Sanjay too so he's understandably terrified of the upcoming holiday.
But does he seek out advice for giving the perfect gift to Sanjay? Of course not! Rex instead decides that since he is such crap at giving gifts and he'll surely lose Sanjay come December 25th, he'll just destroy Christmas altogether. He is a supervillain after all. They do nothing by halves.
This was a funny, imaginative tale that kept me entertained throughout. It was a sweet story and I enjoyed it so very much. Although a short story, it felt complete. I have no complaints. I recommend it to anyone who likes a fun holiday read.
Find out more about How the Supervillain Stole Christmas on Goodreads & Dreamspinner Press.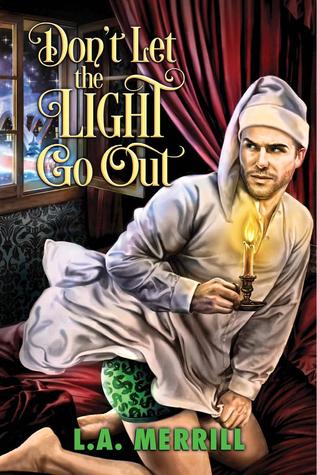 Ray Fine would like to forget Hanukkah even exists. The holiday holds too many sad memories for the young widower. When he's paired with new convert Josiah Wilson in a year-long welcoming program at his synagogue, he doesn't know how he'll get through eight days of celebration, let alone twelve months of guidance.
Josiah has enough on his plate—school, conversion, the holiday concert season—without becoming someone's shoulder to cry on. But when he discovers there's more to his new synagogue buddy's sadness than a case of the "Hanukkah Blues," he sets out to show Ray how much there is to live for.
The first blizzard of the season has other plans, though, and Hanukkah might be a lost cause if Ray and Josiah can't plow through the snow—and their differences. Determined not to lose Ray to his own darkness, Josiah plans to teach him a lesson about the real Miracle of Light—and love.
Sara - 3.5 Hearts
This was a light yet bittersweet story. Not being of the Jewish faith, I can't say much about the holiday of Chanukah but I did like the way it was presented though I had to look up what a chanukiyah was.
With the death of Ray's partner Mark, he has been floating along the river of his life doing what he needs to get by. When he is paired with newly converted Josiah to be his buddy, Mark begins to realize all that he stopped doing for himself when Mark passed.
It was bittersweet to read the story told through Ray's POV. I get the depression he is dealing with down to the closed door of his house and the dust building up. People don't get that the mess they are seeing sometimes isn't really a mess but the person's depression.
Josiah is this light, this hope (perfect for the setting of the story in my opinion) this representation of what life can be like again if Ray can decide he wants to be a part of it.
The bus was an adorable addition to the story and this really was a lovely tale.
Find out more about Don't Let the Light Go Out on Goodreads & Dreamspinner Press.
For dueling radio hosts Deke and Dudley, the battle over Christmas starts the day after Thanksgiving. Deke hates the whole season. Dudley is a yuletide overachiever. They put their debate to a vote, inviting audience members to weigh in. The loser must go on a blind date of the winner's choosing. Dudley decides he wouldn't mind taking the loss, if his blind date, picked by Deke, turns out to be Deke himself. As Christmas gets closer, not only does that fantasy seem unlikely, but everything that can go wrong for Dudley does, including malfunctioning decorations, rancid cookies, and a lost pile of hundreds of handwritten Christmas cards. Just days before Santa's arrival, Dudley's about to throw in the red and green towel and join all the haters. It'll take a miracle to change his mind….
Fantasy Living - 4.5 Hearts
This has to be my most favourite Christmas Jizz story so far. Of the eight stories I've read, this tops the list.
Dudley has moved towns, and is going through his normal Christmas merriment, while working as a radio personality on the Deke and Dudley Morning Show. Deke is pretty bah humbug about the entire thing, and their witty back and forth on morning radio is the perfect backdrop for this story. Dudley is trying to prove that Christmas is the best time of year, while Deke is trying to prove that more people hate Christmas than enjoy the consumerist holiday. Nothing Dudley does this year is going to plan, and he is starting to feel the bitterness seep in as well.
The for-Christmas/anti-Christmas rhetoric was perfectly balanced, and I really enjoyed getting to know both these characters as they battled it out on Radio. The dialogue was great, and pushed the story along really well. This story was fun, and amusing. The chemistry between Deke and Dudley was easily felt. I wanted Dudley to win, even though I'm firmly on Deke's side, just because Dudley made the holiday seem so inviting.
If you have been despondent this Christmas, give this story a go. I guarantee you will at least feel a little spark of Christmas adventure as you cheer Dudley along in his quest to prove to Deke that Christmas can be amazing, and filled with joy.
Recommended for all MM romance readers, who enjoy sarcasm, snark, and witty back and forth dialogue.
Sara - 3.5 Hearts
Way cuter than I expected. I am a sucker for redeemable assholes and Deke fits that profile.
I loved the on and off air banter between Dudley and his costar/crush Deke. They are funny and punny and full of UST.
The bet between them almost reminded me of the blog and those of us *waves* who loves Christmas stories and those who are humbug about it. While I adore the season and all it brings, I get where Deke is coming from as well because yeah, it can be overwhelming to try to make everything perfect and jolly.
I didn't like what Deke did but his budding relationship with Gramps doing it was kinda worth it. I love Dudley's obsession with Deke's body hair because I agree with it and his flirting was simply adorable.
At the end, this was just fun and sweet with how the men decide what to do with their holiday cheer and I love that Deke likes garland with toppers and now thinks Christmas rocks.
Find out more about Scrooged Over on Goodreads & Dreamspinner Press.
***Review copies were provided by the publisher.***
See ya next week!
Be there or be square!