Avon Gale's here today to get all you hockey fans jazzed for the upcoming season with her fourth Scoring Chances book!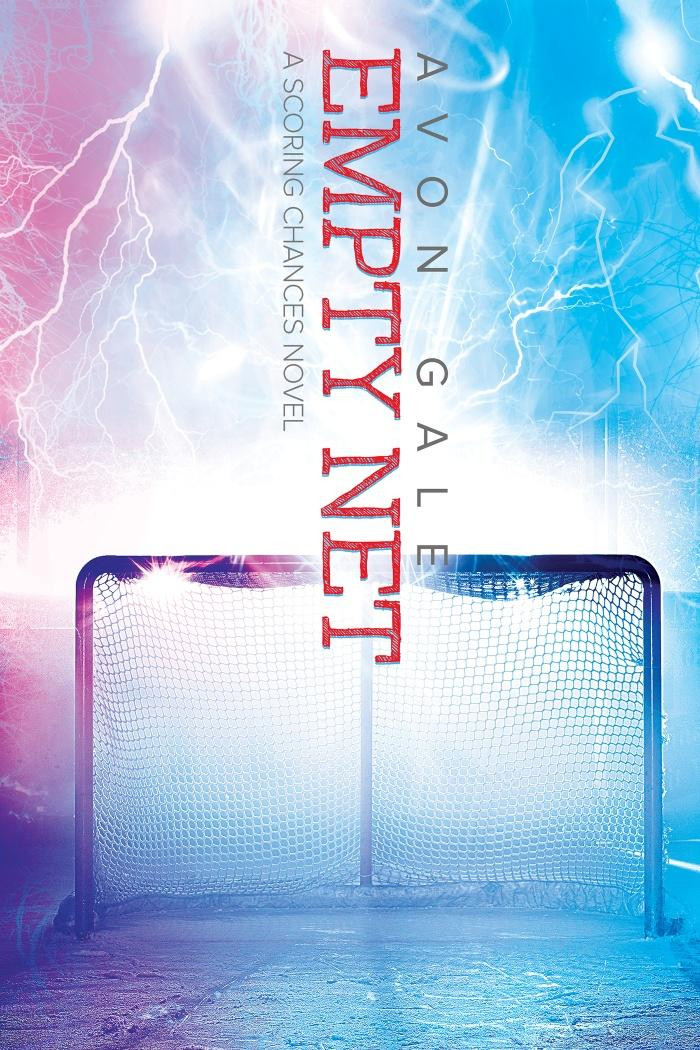 Blurb:
Spartanburg Spitfires' goalie and captain Isaac Drake ended last season with an unexpected trip to the playoffs. He's found a home and family with his coach and mentor, Misha Samarin, and he's looking forward to making a serious run for the Kelly Cup. But things take an interesting turn when Isaac's archnemesis, Laurent St. Savoy, is traded to the Spitfires. After Laurent's despicable behavior in the playoffs last year, Isaac wants nothing to do with him – no matter how gorgeous he is. But that changes when Isaac discovers the reason for Laurent's attitude.
Laurent St. Savoy grew up the only son of a legendary NHL goalie in a household rife with abuse, constantly treated like a disappointment on and off the ice. When a desperate attempt to escape his father's tyranny sends him to the Spitfires, the last thing Laurent wants is to make friends. But there's something about Isaac Drake that he can't resist, and Laurent has an opportunity to explore his sexuality for the first time, but he's cracking under end-of-the season pressures. When facing the playoffs and a rivalry turned personal vendetta, Isaac's not sure he's enough to hold Laurent—or their relationship—together.
Exclusive Excerpt:
It was never going to work.
He should have kept his original plan. He should have spit on Drake again, in his eye or something.
He should have made good on his threat and called the ECHL on his coaches. He should have done whatever it took to not make Isaac Drake think they could be friends.
Except he hadn't. Isaac had seen Laurent crying and hadn't done what he should have, which was make fun of Laurent or mock him for his obvious weakness. Instead he'd taken him home and given him a Twinkie.
Laurent didn't think he'd ever even
had
a Twinkie. It wasn't very good, and he never planned on having another one, but still.
He was sitting in Drake's room, and Drake was trying his damnedest to make small talk, but Laurent wished they could go back to him not having to talk.
That had been so… maybe nice wasn't the right word. Relaxing, maybe. For the first time in a long while, Laurent felt like he could breathe.
"So Murph thinks you went all homo hater on me because you're secretly gay."
Laurent's head snapped up from his perusal of an old copy of
The Hockey News
he'd found on Isaac's floor. "I'm not secretly anything."
Drake sucked on his lip ring. He did that a lot, and Laurent still couldn't quite believe he got away with having it in the first place.
"You're straight?" Drake asked.
With a little extra oomph, Laurent flipped past an article about how much everyone hated shootouts. They should try being a goalie. "I just told you. I'm not anything."
"Uh," said Drake. "I… What?"
The thought of anyone touching me makes my stomach turn.
"My father always said I could fuck when I'm famous."
"Oh my God. Every time I think I couldn't hate him more." Drake eased into a stretch, though it appeared to be mostly so he could reach for the pretzels. "Your dad is a prick, Saint."
That nickname. Laurent had never had one before. His father was always Savvy, of course, and his teammates on the Ravens called him Savvy J, for Savvy Junior. Which he hated more than anything.
"My father has two Stanley Cup rings, a Vezina, and a Conn Smythe. He's probably going to be inducted into the Hall of Fame next year."
"Your father is a douchebag who needs to be knocked over the head with all of those trophies," Drake said. "And you don't know if you're attracted to men or women?"
The conversation made Laurent uncomfortable, as that sort of conversation always did. "I don't know."
To his surprise, Drake didn't push. "Okay. That's cool. But if you're gay, you know… you can talk to me about it."
Laurent's stomach churned with unhappy nerves. "Why are you even doing this?"
Drake didn't bother to ask him what this was. "Because I hate what's happening to my team. And I hate knowing you're not an asshole but you don't know how to be anything else."
"I've never been anything but awful to you," Laurent mumbled. He wanted to go home, but the idea of walking all the way to his apartment was exhausting.
"Yes. Believe me, I know. And you're going to stop, because we're moving past that." Isaac's voice was even, implacable. As fiery as he was in net, he had a certain immovability that Laurent found he envied.
Would Isaac have let his father push him around? Probably not. He'd run away, and that was that. But Laurent wasn't lying when he told Isaac that he was jealous Isaac's parents let him go.
Isaac.
He was thinking of him like that, with his first name. Everyone else called Isaac "Drake."
"I probably still will," Laurent said gloomily. "I'm not… I've never had a friend before. I won't be good at it, and you're going to get mad at me."
Isaac shrugged. "Probably. I get mad at Hux and Murph. Like today. Which…. Fuck. I need to text them and yell some more. Idiots."
"They were standing up for you," Laurent said, as though he weren't still horrified by how it had felt, being helpless and so close to having all his secrets laid bare. It was humiliating to stand in that shower and know he had no way to stop it.
The same way Isaac must have felt on the ice when I spit on him.
Laurent hung his head.
"Yeah. Well, I can do that myself. They're not bad guys. You'll see." Isaac flopped on his back and idly messed with his phone.
Wait. What did that mean? "Isaac, I can't be… I can't be friends with them. You can't make me," Laurent said, panicked.
Isaac looked up, and his dark blue eyes narrowed in thought. "You want to say something mean, huh. So I'll hate you."
Laurent nodded desperately.
"Stop talking," Isaac said, and Laurent felt the relief at the simple instruction and went back to his magazine.
Isaac returned to his phone, Laurent read back issues of
The Hockey News
, and it was maybe the best afternoon he'd ever spent around another human being. He wanted to lay down on the floor and fall asleep.
Buy Links for Empty Net
Amazon
Google
Kobo
Barnes and Noble
All Romance Ebooks
Dreamspinner
Win a copy of Power Play, the third book in the Scoring Chances series!
a Rafflecopter giveaway
Bio:
Avon Gale was once the mayor on Foursquare of Jazzercise and Lollicup, which should tell you all you need to know about her as a person. She likes road trips, rock concerts, drinking Kentucky bourbon and yelling at hockey. She's a displaced southerner living in a liberal midwestern college town, and she never gets tired of people and their stories -- either real or the ones she makes up in her head.
Find Avon
@Facebook
||
@avongalewrites.com
||
@twitter