5 reviewers: Ann, Fantasy Living, Optimist King's Wench Reflection & SheReadsALot
30 short shifter stories... 30 various authors
6 consecutive Sundays...it's going to be a blast and a half!
Bring on the animal shifters of all types!
Missed a week? Week 1 | Week 2 | Week 3 | Week 4 |
Interested in purchasing the individual titles? Click on the title above the book covers.
Week 5 reviews stories by: Bee Allen, Taylor Roxton, Jessica Walsh, Lex Chase and LE Franks
A Cat Builds a Raft by Bee Allen
Families, Zeke knows, are complicated… and shapeshifter families are a whole other ball of catnip. Ten months ago, Zeke went off the Schuyler clan radar, determined to live a painless life of luxury as a housecat. It was a fantastic decision: his human, Toby, feeds him, cuddles him, and loves him with all the simple devotion he could ever want. Sure, he sometimes feels the desire to know Toby on a real, human basis, but it's squashed by terror and inertia.
But Zeke isn't the only one with a complicated family. A break-in heralds the end of Zeke's fantasy life and throws him headlong into a new drama. Toby's family is from the sea, where conflict is resolved a little differently. Zeke will have to use all his feline cunning to get him and Toby out of this mess safely—and both men will have to confront their fears, their families, and their future.
Ann - 4 Hearts
Zeke, as a person, is the best cat that ever was. The author captured "cat" perfectly and that characterization made this story. He's got the spoiled entitlement along with the loyal charm that only a cat can have. He's in love with his person in his cat form, in a purely cat way of course, and when he shifts he can't deny that Toby is appealing to his human self as well. The two of them together are too funny and so damn cute. I wanted more.
In amongst all the adorable is a story with some pretty detailed world building for a shorty. It bordered on just a smidge too much complexity for a tale of this length, but by the end I thought I got the gist of what the big picture was meant to be. Just don't ask me too many questions if I try to explain it, I'll just talk myself into a corner. But, I did like following Zeke and Toby as they tracked down Toby's family and met up with Zeke's. What I liked most was their connection and communication as they got to know one another and feel out their relationship now that Zeke isn't a fuzzy feline. I'm anxious to read more by this author, she writes characters that I want to get to know and the balance of humor and feels was just right.
Reflection - 4.5 Hearts
I have often thought the life of a cat would be pretty wonderful, lazing about and looking effortlessly elegant. The only drawback is the cat food. Bleh.
It seems Zeke agrees with me. Fed up with the pressures of his family and work he has the means and ability to transform. For the last few months he has spent a lovely time as the pampered feline of Toby. Zeke has selkie magic and is known as a pelt-shifter. The longer he spends as a cat, the less interested he is in returning to his human form.
All is going well until a break in casts a pall over the idyll. Zeke may be forced to share his secret with Toby, which brings all kinds of complications he really doesn't want. It seems that Toby may have a few secrets of his own too. A significant member of a 'natural' shifter clan he may be in danger. I loved how the shifter societies are contrasted in this short story. There is plenty of mystery and intrigue and the selkie mythology dimly remembered from childhood is cleverly woven into the storyline and makes an interesting contrast to the more usual shifter fare.
I could happily have immersed myself in this story for much, much longer and explored more of the intrigue, and magic. I love the world building and the chemistry between Zeke and Toby is delightful. The pacing is great. Altogether a purr-fest read, highly recommended. This left me with a big smile and the realisation there's a cat sized hole in my life.

Fantasy Living - 3.5 Hearts
Zeke is a cat shifter, who has a human he keeps as a pet….. Joking. Well not really. Zeke has found himself a human that will take care of his every whim, while he hides away from the expectations of his family. Toby is none the wiser and has no idea that Zeke has a human form, he has chosen not to reveal.
Zeke sleeps a lot…
Licks himself……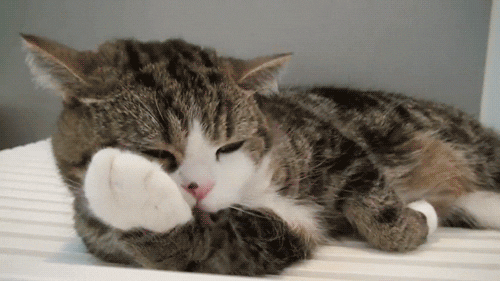 Begs for food….
And snuggles with his human, Toby.
(I'm aware this is a baby tiger, but whatever, look at them!!!!)
Zeke and Toby get along great.
Until Toby comes home early one day and the next thing Zeke knows is Toby is being attacked, and then they are moving house. Suddenly life isn't lazy and predictable anymore, and Zeke has to take action if he wants to continue his life as a cat with his human. But Toby has been hiding some secrets of his own.
This was adorable. Zeke was the cutest. This story was told in a way I imagine a cat would really think. It is impossible for Zeke to think that Toby wouldn't pamper and pet him, and he has no reason to do anything but laze around and be a lump.
The plot for this story was workable. Nothing overly complicated. This was a fun read, with some interesting paranormal concepts. I liked Toby, even though I didn't get as much from him as from Zeke. And I just adored Zeke, in both cat and human form.
I could totally get into housebound feline shifter stories. The whole idea is just cute.
This is short, but there is some naked time, and it was delicious…..
Totally worth the read.
Add "A Cat Builds a Raft" on Goodreads!
Chords by Taylor Roxton
As a werewolf, Kieran Woodsmith's career options are limited. Luckily, he can howl in tune, and his voice earns him admission to the prestigious Juilliard School of Music. Desperate to prove to his family that his admission wasn't a fluke, Kieran auditions for the Broadway Musical Review. But when he meets an upperclassman with no scent and strange violet eyes, Kieran is thrown off his game.
On the eve of his lunar cycle, Kieran's friend drags him to a party at the purple-eyed senior's house. Distracted by the mystery of Brett's missing smell, Kieran forgets about the moon. When he wakes up in a cage in Brett's basement, Kieran realizes he's not the only one who is more than he appears.
Reflection - 4 Hearts
I particularly liked this story although it doesn't reach a glowing five hearts because of two minor grumbles - there was a BDSM element that sprang from nowhere and in my humble opinion for no particular reason. Plus the story ended exceptionally suddenly - I turned the page and was staggered to be reading the author's biog. I kid you not.
Anyway apart from that, I was charmed by the idea that werewolves are naturally musically gifted (can howl in tune). I guess it is obvious when you think about it. I loved the inner dialogue from Kieran as he negotiates his way around Juilliard School of Music and tries his best to fit in.
I was completely surprised by Brett. I had my suspicion that he was definitely some kind of paranormal creature, but it turns out he wasn't what I was expecting at all. Bonus heart for that.
Not wishing to give the game away, I will just say that I have a particular soft spot for Brett's particular paranormal creature of fable. Plus when Kieran shifts he seems more of the werewolf B- Movie horror film type than modern day shifter stories and I liked the retro approach in contemporary setting.
This is told in first person present tense which ( have mentioned before) I am not a huge fan of, but since I like Kieran and his general outlook on lifeI can overlook the narrated style..
Favourite quote:
'I bring my legs to my chest rocking back and forth. I doubt any werewolf in the history of all time has ever looked so scared. My dad would slap me if he could see me right now.'
I would most certainly have preferred to know more about our main characters. What we get is a taster, but I really enjoyed the brief foray into their world. To be left wanting more is no bad thing.
Fantasy Living - 3 Hearts
Conceptually, this story was good. I enjoyed the subject, the plot idea, and Kieran. I enjoyed the world building, and thought the set-up was pretty good.
The idea that all werewolves are great singers is new, and I love new. I always get a thrill when someone changes up a popular trope.
I thought Brett was a great mystery. His behaviour was somewhat aloof, and I didn't see how this could end well. I read in anticipation of what I would discover, and was delighted at the reveal. I did feel a lack of character building for Brett, but since the story is from Keiran's point of view, and it is a short story, I can't be too disappointed that I didn't get to know him better.
I felt like this was the beginning of something, and I think it fell down a bit in the end. I wanted a more thorough unveiling, and I think another chapter would have helped me feel settled with this story. I just wasn't convinced by the finale.
A delightful surprise is there is some light bondage,
very light
. Recommended for those who enjoy shifter stories with a twist.
Optimist King's Wench - 3.25 Hearts
This was
so close
to being a 4 Heart read right up until the end where it went haywire.
Kieran is a freshman at Julliard and he's hellbent on making a name for himself. He rushes into his first audition unprepared and bombs. Hard. But he seems to have garnered the attention of hunky upperclassman Brett along the way. Kieran's a werewolf who's decided to try out being a lone wolf in the big city. He's not keen on shifting or pack or anything of the sort, so he's making a new start and what he wants most is a
genuine
college experience and nothing says college like skipping your first day of classes. Ammiright?
Michelle, his first college friend, asks him to go to a party and of course it's Brett's party.
Of course it is.
Things get interesting from there and when it's revealed what Brett is I was practically bouncing. Everything was going swimmingly-good tension between the MCs, fair repartee, a drunken college student making drunken statements and great build up to the reveal of Brett.
Then…
They end up going upstairs to Brett's room which looks more like a dungeon than a bedroom with every BDSM accoutrement known to man. I found this strange considering certain things that were previously revealed. Then it
just so happens
that Kieran's had kinky themed fantasies in the past and zip, bam, boom the next thing you know bondage and nipple clamps are on.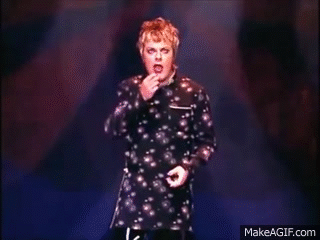 Two things both of which by all means take with a grain of salt.
1. Wouldn't it be more plausible to maybe go for a little D/s before you dive directly into bondage without having had a discussion? Like maybe trying holding him down, using The Voice to test out how he responds to a couple of "commands" before you pull the toy box out from under the bed and start strapping people down? Maybe that's just me. *shrugs*
2. All the kinkiness seemed shoehorned in. There weren't any vibes leading up to this that would make me think some kinky shenanigans were on the horizon. Brett's kind of pompous and comes across slightly bullyish, but nothing screamed DOM to me nor did anything scream SUB about Kieran either. It struck me as forced and served no real purpose regarding their connection.
My other quibble is the ending which felt like hyperspeed. We were moseying along nicely and then someone hit fast forward times 1000. It went from 'aww' to over in a blink and had me hitting the forward button on my kindle like a lunatic. Another few pages or maybe an epilogue would've worked toward cementing my belief in them as a couple, but the ending was too abrupt for it to be believable.
The beginning of the story is enough to pique my interest and read more from this author in the future, though.
Add "Chords" on Goodreads!
Spiked and Feathered by Jessica Walsh
Anthony's had the day from hell at his call center job, and he plans to drink away the memory, so he finds the nearest club and gets started. Lucky for him there's an attractive man in the crowd who's willing to act without too many questions. A hot trip to the back of the bar and some heavy action is in order.
The next morning Anthony wakes in an unfamiliar bed to a hellish headache and the heavenly scent of coffee. He didn't ask questions the night before, so why ask them now? Okay, maybe one. Why does his attractive one-night stand have feathers?
Fantasy Living - 3 Hearts
This story worked well. It was sexy, and didn't give anything away too soon. I liked Anthony, and felt his character was presented well.
I had a giggle during the opening scene because I work in a call centre, and a lot of my colleagues have Pop! Figures all over their desks, just like Anthony. There are also plenty of god-awful smells that come from the lunch room.
The plot was set up well. Simple, and allowed for decent character development for Anthony. The one night stand didn't turn into insta-love which I have to say, breath of fresh air!
The shifter in this story was
interesting
in a very good way. I liked that there were clues about the shifter's appearance that lead to a natural conclusion to the type of shifter he was. Anthony's reaction to the revelation was odd. I wasn't sure whether shifters are known in this world, but I got the feeling they are not. I wanted to explore that more.
Recommended for those who enjoy shifter stories, without action. This is purely a moment in time in the life of these two characters, and it would be perfect on a lunch break from the crappy calls we all have to take at work.
Add "Spiked and Feathered" on Goodreads!
Bye-Bye Birdie by Lex Chase
Christopher Robin and Dashiell Hammond couldn't be more different. Dash is an iguana shifter who provides aid for natural disasters far and wide, but Chris is a flighty parakeet shifter who can't find his way across town without Google Maps. To Chris, Dash is a superhero, but he spent more time saving the world than saving their relationship.
To conquer his heartache, Chris books a cruise, determined to meet Mr. Right Now instead of Mr. Right. But he doesn't expect the cabin steward responsible for his adorable towel animals to be none other than his ex-boyfriend. When the pair fall overboard and take refuge on a deserted island, old feelings resurface. With Dash's hardnosed survival skills and Chris's fickle insecurities, they'll have to learn to compromise if they want to get back to slamming daiquiris at the tiki bar.
Fantasy Living - 2.5 Hearts
I liked the shifter concept in this story. I found the
Survivor
plot fun, but it lacked any romance, or sexy. I didn't really believe these two had been in a relationship for twelve years. Even with the split. They just didn't scream
long-term
couple to me. They didn't have that deep seated comfort and innate knowledge of each other, at least not to me. I could have believed they were together for a year or two, but not twelve.
Nonetheless, Chris was a likeable character. I thought his wit was fun, and in another setting, I would have loved him. His relationship with his mother was adorable, and I would have liked more time with them interacting.
I didn't really connect with Dash in any meaningful way, and other than the supposed length of time they were together, I don't believe Dash is the man for Chris. I think they can both do better with other people.
Whether that was the point of the story or not, that is the conclusion I came to by the end. It was pretty meh for me. I think some more layers would have given this story the edge it needed. There didn't seem to be any reconciliatory development going on.
The world building was decent but could have been expanded. I wanted a little more context of the shifters in this world. I didn't really know where they fit in the broader world, and that would have made a difference for me.
For people who enjoy unusual shifters, this was decent, but not great. It was cute, and mellow. Good for a break during a busy day.
Optimist King's Wench - 3 Hearts
This is a story about starting over. Dash and Chris were together for a loooooooooong time. Twelve years. They were
engaged
for twelve years. Not married.
I feel like there's a certain point in a relationship where if it's not moving forward and you want vastly different things but you stay together anyway you're just prolonging the inevitable. And that's precisely what I think is going on with these two. They set a wedding date a year ago but the universe intervened and Dash couldn't make his own wedding. So... the universe ended their relationship for them? Well, at least the universe has some cajones.
In Chris' hour of need, his mother comes over foists her tofu on him, makes him promise to lose sixty pounds, tells him she's signed them up for CrossFit classes and bribes him with a Caribbean cruise set to sail in a year.
Seriously? What the shit kind of thing is that to do to your devastated son? I guess it's supposed to be some sort of tough love, but… fuck that. Sideways.
At any rate, he complies with the thundercunt's demands, fast forward a year and lo and behold guess who's on the cruise? One thing leads to another and the next thing you know they're on an island having a
Survivor
adventure.
It's actually amusing. They have a familiarity with each other that translated well and they are absolutely opposites attract. Chris is high strung, has a diva streak that'd rival Mariah's and is
loud
, whereas Dash is laid back, no shoes, outdoorsy and channelling Bear Grylls. And that's where I keep getting stuck.
I don't think much has changed for either one of them over the past year. Chris is still burbs, indoor plumbing and strollers whereas Dash is wanderlusting Peace Corp. Plus, they bicker and Chris has a tendency to shift into a parakeet at inopportune times to screech is displeasure
loudly
or peck him and who the hell needs that?
Chase did a good job with the bickering and I enjoyed the adventure, but these two as a couple... I'm not sold. It's clear they care about each other, but I feel like there's going to be a sad parakeet in the not too distant future with a shitastic "support" system. I'm looking at the mom. Not in a nice way either.
I would try something else by this author because she gave me a sense of these characters in a short period of time and a plot that held my attention. I also wouldn't mind getting to know that wolf a teensy bit better.
Add "Bye-Bye Birdie" on Goodreads!
Of Nuts and Men by LE Franks
Summer break is a time to relax and reconnect at the family cabin in the Eastern Sierras. Unfortunately for squirrel shifter Jamie, his first day back is anything but restful. When his adoptive brothers can't resist winding Jamie up and sending him on a wild squirrel chase for last season's buried nuts, he finds himself diverted from his mission in the best possible way.
Sawyer is a man stuck in a tree with no way down, and things are about to get a little weird when one very inquisitive squirrel turns up to save the day. At least it's not the mountain lion who chased him there to begin with. Still it takes a while before Sawyer's convinced he's not seeing things. By the time he's got his feet back on the ground, it's Jamie who needs a little TLC—fortunately for both of them, Sawyer's tent is close by, and Sawyer has the perfect way to heat things up.
Ann - 4.5 Hearts
Adorable!
I grinned the bulk of whole time I was reading Of Nuts and Men. It was a perfectly balanced short that gave me the connection between Jamie and Sawyer while keeping the story moving forward without feeling rushed. Sawyer is stuck up a tree, having been chased up there by Kevin, the douchebag mountain lion foster brother of our heroic red squirrel shifter, Jamie. The back story to Jamie's life; how he came to live with the mountain lions, the evolution of shifters and shifter biology were all threaded through the story organically. Nothing felt forced at all, so while it was a lot of information in amongst the action of rescuing Sawyer, it was easy to absorb and get caught up in.
The banter between Jamie and Sawyer made the story. The conversations were both fun and funny to read. It's what showed me the connection. The author didn't have to tell me how the two of them were attracted to one another, I could see it in their words and actions.
The story also knew when to stop. You can't have two characters meet and give them a believable HEA in 47 pages. Good writing can make me believe that it's down the road for them though and that's what this story did. It left me wanting more of them because they were so charming to read about, but I was also completely satisfied with where it wrapped up. Again though, you wouldn't get any complaints from me if there was a follow up for these guys.
SheReadsALot - 2.5 Hearts
My third squirrel shifter story for the year!
We need more squirrel shifter romances!
In "
Of Nuts and Men
", we visit the Sierra Mountains with hot botanist Sawyer who nearly misses a mountain lion attack by climbing a tree. And...getting stuck. To his luck, he gets saved by an unlikely savior: a red squirrel.
Not the premise was cute. But the execution...it wasn't as smooth for. Good ingredients, not used to its full potential. You have funny mixed with dull mixed boring = uneven read for me.
This is what I got:
Alternating POV (yay!)
Too much attention to the trees (bummer)
A sort of Snow White and her 7 Dwarves parallel with Jamie our red squirrel, who was fostered with 6 big cat shifters (yay!)
But more detail was given to a drawn out rescue and forest setting, not enough about the cool background. (bummer)
An OMG! you were seriously injured (yay!)
Let me cure your hypothermia with buttsex (bummer)
And the sex was boring. I felt I needed to pat the story on its head for trying to do a good job but I'd rather it just pick up its shit and leave. And we never speak again.
Could be that the luster has lost its shine from this style of writing- the way some flowery prose slipped in between scenes that could have been better if it went simple and direct. Or maybe because I just finished a fuckhot PWP (
Callum's Fate
for the curious) that the way too quick sex just paled in comparison. Or maybe I had too many questions at the end such as if Sawyer planned on camping by himself, why would purchase condoms and big bottle lube? I understand always being prepared but c'mon.
I could see all the plot points shoved in there just to make the story move - read a little unnatural for me like the mountain lion who didn't attack but just chased him up a tree to be able to meet the squirrel, or the condoms and lube just to have sex dumped in when they barely had a meaningful conversation.
For me...not memorable.
Didn't get enough background on Sawyer, the attraction went from cool to hot too quickly, something was off with their dialogue. It needed more. Not funny enough (Jamie's repetitive squirrel excitement was funny), not detailed enough where it could have counted, not resolved. It ends with a HFN feel.
Nuts
weren't enough to wow me. (A first. ;P)
Fantasy Living - 3.5 Hearts
This was cute. I loved the way Jamie thought while in Squirrel form. It was very OCD.
Nuts, Nuts, Nuts
.
I liked the plot. It was simple, which allowed more time inside the minds of these two men.
The reveal was a little understated. I would probably fall out of the tree if a man turned into a squirrel, and back again, in front of me. But it was reasonable enough because of course Sawyer thought he was delirious from being in the tree all day.
Although light on world building it was enough for me to be convinced of these shifters in the world. As always, short stories are difficult, and I would always prefer more of a good story. So I suppose that works in the author's favour. I want more. I think this couple is cute. I think they're sexy, and I really liked Jamie as a character. I was definitely invested in his life and the outcome for these two.
Recommended for lovers of shifters, unusual shifters, and
nuts
.
Add "Of Nuts and Men" on Goodreads!
All copies provided for an honest review.