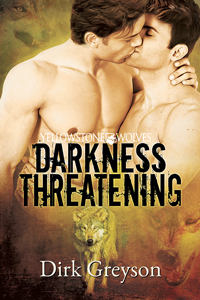 Fredrik is back from college and trying to stay out of his power-hungry brother's way, until his brother takes a prisoner for his pleasure. Unable to tolerate his family's cruelty, Fredrik overcomes his fear to help her escape back to her pack. There, he meets Christopher, and their instant attraction tells him Christopher is the one. However, since the threat of his brother remains, Fredrik is reluctant to pursue a relationship.
Christopher is still figuring out his place in the pack and has been living on his own to avoid making waves with his brother, Mikael. Now he's met his soulmate, and he'll do anything to take care of his love, including rejoining the pack.
With coaxing, Fredrik accepts his feelings, and Christopher's pack gives him the home he's never had. But Fredrick soon realizes he should keep running. His brother is on his tail and will stop at nothing to obtain the power he craves, especially when he realizes the source of the power could be Fredrik himself.
Okay, you had me at Shifter. This is a first read for me from this author and I enjoyed the pace of the story and an interesting dynamic that faces Fredrik when he rescues a member of the Old Faithful pack from the clutches of his power hungry half brother Juneau who has assumed power following the defeat of their father Alpha Anton.
Knowing that his brother will stop at nothing to make Fredrik pay for his insubordination he believes it better to keep moving rather than bring the wrath of his brother down on the Old Faithful pack and potentially cause catastrophe and the destruction of the pack.
Matters are complicated by Fredrik meeting his soul mate, the disaffected younger brother of pack alpha Mikael. Their story is an interesting exploration about finding acceptance both in yourself and others, particularly when Christopher desperately wants power whilst Fredrik Chafee at the prospect of harnessing his own supernatural gifts.
To be honest, I enjoyed the story but I wasn't particularly enthralled by the characters, perhaps because I joined the action late, reading this as a standalone novel rather than the second installment. I liked the take on Shifter society and their practice of being children of light (a new experience for Fredrik whose father and brother gravitate towards the dark) under the guidance of a goddess with a sense of humour.
Personally, I found Fredrik a little too much on the winsome side and therefore somewhat irritating. There were times when I wanted to climb into the page and shake him although my admiration was growing for Fredrik towards the end of the book.
What actually caused most distraction for me was the peculiar mix of names amongst the characters and two packs, ranging from everyday ordinary like Christopher and Catherine to more unusual (to me at least) Mikael, or Juneau. I couldn't work out how they 'fit' so it jarred me from the story from time to time.
An enjoyable read, it kept me entertained, and I can see a possibility opening for a continuing installment exploring the burgeoning relationship between two of Old Faithful's pack mates.
Dreamspinner Press
Goodreads