T
he M/M Romance Group on Goodreads hosts a Don't Read in the Closet event each year where they invite members to submit a photo with a story prompt. Interested authors then volunteer to write the requested stories, which are published for free for everyone to read. It's a fun/exciting/stressful process, and a great opportunity to read stories from favourite authors. And chances are, you'll also discover some new authors, who hopefully have a back-list of goodies to check out :)

This year's event was named Love is an Open Road and they started releasing the completed stories on June first. Here at BMBR, we've been following along on comment threads, anticipating the stories from our favourite prompts, and now greedily reading the stories as they become available.
Lorix: Death Chasing Metal Dreams by Kaje Harper
The stories that have come from the DRitC event this year have been amazing. I have read many stories I wouldn't normally have and loved them. I have found new authors and revisited authors I know I love and basically been blown away by the fiction produced. Of course not everything is to my taste - but to get to try all this stuff, for free, is such a wonderful opportunity.
It is quite often said these days
you don't get something for nothing
, but in this event that is absolutely not true. Sometimes what you get is more than you dreamed. I know this is the case for me, and this week it was Kaje Harper's 90k novel, Chasing Death Metal Dreams, that blew me away. I totally and utterly loved it.
Let's not beat around the bush; I am a huge Kaje Harper fan, for many, many reasons, and they all held true in this story.
First - and possibly most important to me - characterisation. I know I harp on about this in my reviews, but it is characters that make the story for me. They are the people I empathise with, sympathise with, laugh or feel angry with. They are the core of the world into which I fall in the pages of a book. They are who I fall in love with. They are the story, and Kaje writes great characters. Better than great. Her characters come from the heart (and I should imagine a heck of a lot of research, because they are all so true to themselves). She can write elderly gentlemen, tough cops, grateful partners. She can write about the world weary or optimistic, about young and old. She
never
writes a boring characters. She never writes characters that feel like the same old, same old. Each voice is unique and genuine, and by gum do I wish I had that skill.
Carlos' voice in this story was absolutely no exception. In fact it is one of the best examples I have read of real character. Born male in a female body, Carlos knew from a very young age that he needed his outside to match his inside. I truly cannot imagine what it is like to not feel like me. To not be the person I really am. I may not (always) like the package I come in, but it feels like me from the tips of my toes, to the top of my head.
I imagine writing a trans character and not turning them into a caricature or political statement is especially hard. Kaje writes about Carlos though,and she makes the character more than an f to m trans person. He is more than gay, he is more than a death metal musician, he is more than the Mexican boy sent to live with his aunt and uncle in America. He is more than a dental assistant, more than a tattooed musician, more than a scared 14 year old. He is
more
than all those thing yet all those things are part of him. All those things combine to make him,
him.
The focus of this story is Carlos dreams to be in a successful death metal band. He writes and plays guitar and lives for his music. The death metal scene though - it's not a place where being openly gay is, at least in Carlos' opinion, viable.
Carlos is full of attitude. He loves his music, but he takes no shit. Not from fans, band mates or the general public. I could picture him so clearly, with his swagger, his presence, his attitude. He is fun. He is dedicated. Hard working. Focused. Ambitious.
He is brilliant. I loved every single moment spent with him.
Nate is the man he falls in love with - even if all Carlos was after was a quick fuck. Nate's twin brother is also in the death metal band scene and Nate helps him out roadying from time to time. Nate is out and proud, more the kind of guy who likes long term over one night. An artist who is still dealing with lies fed to him by his exes. Together Carlos and Nate are brilliant.
Kaje Harper takes their characters and the story and makes it feel real in a way many other writers would struggle to do (IMO). Never one for an easy get out or an unnecessary amount of angst (i.e. angst for angsts sake) the troubles her characters face feel real. They are led by emotion and circumstance, and not the desire to write a thrilling storyline. (Although obviously the desire to write the thrilling storyline is there, otherwise there would be no story, but it is written so damn well you forget that). I always feel I've learnt something when I've finished one of Kaje's stories. I also know I'm going to have a terrible book hangover.
Because this review is already going on a bit, I would just say - please read this story. It really is fabulous.
Optimist King's Wench: Full Exposure by Amy Jo Cousins and The Supreme Might of Love by Christina Tomlinson
Amy Jo Cousins, welcome to my neighborhood.

*pats sofa cushions*

Come. Sit a spell. Whisper more of your delightful words in my ear.

And this story is delightful. Cousins allows Riley and Evan's relationship to bloom and grow into a palpable thing of beauty right before our eyes.

They meet on a photo shoot and ooze chemistry. It is a foregone conclusion that they will spend the weekend together. We're given glimpses of that weekend. Each window gives kernals of truths about each of these characters.

They compliment each other but neither are perfect. Riley is a bratty and moody rock star who reminded me of The Bieb. Evan is a sci-fi geek with a tendency to word vomit when nervous. Together they are extraordinary.

"What would you pay me to do to you, Riley Flood?" He whispered the words against that mouth, feels Riley's lips open to speak and Riley's breath on his face.

"Everything."


They take advantage of their weekend together, neither wants to part, but obligations call. Promises are made. And broken. Only a grand gesture can possibly rectify the situation.

This story captured my attention from the get go. True, it was the name drop of Neiman Marcus that made my eyes glassy and pupils dilate, but it was the writing that kept me invested and left me with squishy good feels.

The side of kinky power dynamics didn't hurt. I especially loved how sensual the writing was without being explicit and how tactile they are with one another. And that edging bearskin rug scene.

*stares into space*

Bearskin rug cheesy, you say?

Bearskin rug hot, Cupcake replies.

I will be on the lookout for more from this author in the future and my thanks to her and her team for contributing to the LOR event.
******************************************************************
Gladiator?
Roman soldier?
Ancient Rome?
God of War?
Oh, that was me. My mistake.
There's something about alpha power struggles that is so titillating. I also
lurve
me a big un bottom.
A lot.
Titus is a gladiator who's recently earned his freedom. He's also caught the eye of Kasen, Roman Legate. Kasen antagonizes Titus at every turn.
In fact, these two are at each other so much and so often that they have garnered the attention of Mars on Olympus.
Mars decides he wants to be the creamy filling of that manwich, so he fashions an alluring disguise and goes after his men.
He becomes treasurer of Aquileia and hires newly freed Titus as his bodyguard.
Marius (Mars) has all sorts of hotness working for him. Young, nubile slaves that would look fantastic bouncing on Titus' lap, but he keeps getting cock blocked!!!!!
HE'S A GLADIATOR! HE HAS NEEDZ!!!!!
When Marius makes his move Titus is stunned and thrilled since he didn't think he stood a chance with the nobleman not to mention hornier than a colony of rabbits.
Marius has to use some pretty fancy skills (read: manipulation) to complete the triangle.
You know that saying, "there's a fine line between love and hate"?
Titus and Kasen may have drawn that line.
I was hopeful for some hate fucking, but they realized their feels prior to the boinking. *sadz*
However, there was some rough sex and a loin cloth wrestling match!!!!!!
The writing and story arch were solid. The storytelling idea and how that worked out in the end, I really liked. Just the right amount of squishy goodness.
The author nailed the prompt and I thank her and her team for the contribution to the LOR event.
SheReadsALot: First Dance by E. Davies and Black Horse River by Robin Studwick
I saw stripper and I got excited. Anytime I see stripper tag attached to a romance I think: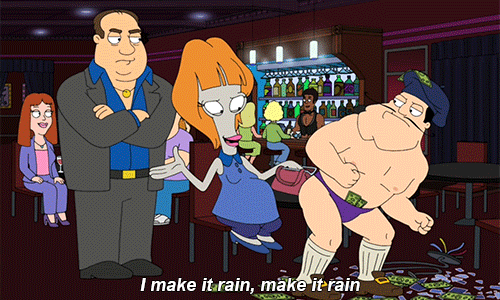 I get my singles ready and everything.
But this isn't
that
kinda romance.
This is Fluffy McSugarson with a bowl full of Aw!
No sex (not necessary), full of college geek awkwardness and a stripper who likes to memorize poetry to help with his anxiety.
I'm glad both main characters has similar anxieties and their conversations tapped into my barrel of aw! Because they were awkward kinda cute. I'm not really amazed by poetry memorization but I picture Danny (the stripper) and his Scottish accent reciting Shakespeare and I smile.
Maybe do some of this too:
Danny, you could have had a thong full of singles if you turned it into
that
kinda romance.
His loss. ;P
Sweet and funny at times. Not extremely memorable but there's something about this that made me root for the nerdy bookstore worker protagonist (Kyle) finally coming out of his shell and possibly meeting the other half to his nerd soul.
I'll round up
So I'm going to take my singles and hit the road. The search for
that
kinda romance with the essence of
ratchetness
continues.
My thanks to the author and the team behind the event.
********************************************************************************************
I've never watched the entire Princess Bride movie
.
Do bits and pieces count?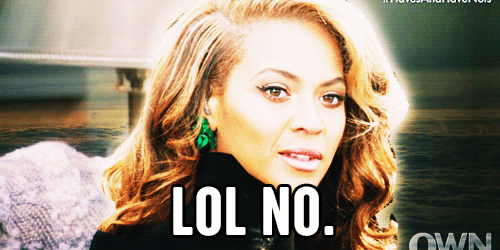 *holds out hands* It's on my bucket list of things to do.
I don't know if this story is close to the movie or not, but I'm going to hazard a guess there aren't kelpies in there.
I liked the fantasy/historical edge. I liked the legend feel to it. Based on the story written, the tone was subtle and formal. It's told a young, virgin Scottish lord Fionn's POV. It worked for me. I see what the writer was going for keeping the tone like that, some parts read a little stilted because of it.
Sweet story though. My favorite part is the sensual undertone of Fionn and Bran's sexual tension. It wasn't overt and it fit what was written of the men. Fionn lusts for his stablehand Bran. Always probably since he could have a cockstand. And he thinks Bran doesn't notice. But he wants him to notice.
*grins* He does.
Men being together back in that time is forbidden but they ride away from prying eyes. Together, they discover the gifts of sweet yearning.
I do wish this was longer, just to see the fantasy world really. I found the kelpie angle unique. But I get to keep in tone with the legend theme, it wouldn't be required.
I'd read something else from this author in the future. I'm curious to read contemporary or paranormal from her, see what she can do. (Just leaving this bit here for future reference ;])
My thanks to the author and the team as always behind this event. The event tends wreak sweet havoc to my reading schedule (Ha!) too many good choices to choose from.