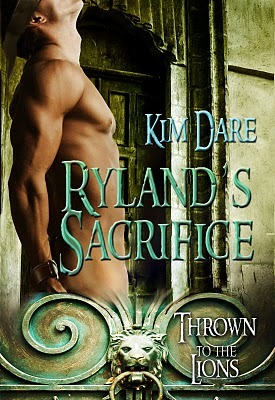 Principles don't pay tuition fees. When Ryland's math scholarship disappears overnight, he has two choices. He can borrow money from fellow student Jason Burrows, who has very interesting ways of collecting debts. Or, he can volunteer to be thrown to the werelions.

One night spent playing the part of a willing human sacrifice will give him enough money to finish his PhD. It seems like a good deal-right up until the moment he finds himself naked, blindfolded, bound and surrounded by lions.
Mmm, yes. I gobbled this little treat right on up. And what a treat it was. NomNomNom.
Ryland was left on the doorstep of the lions. What better way to pay off a debt? He was left there cuffed, naked and willing. Ah, yes. Just like the beginnings of all classic love stories ...if only.
The story wastes no time getting to the good stuff. We have quite the scene with Ryland and the lions. Specifically, with Arslan.
"That's right pet. Follow your master."
*shivers* Mh, he was speaking my language. Arslan and Ryland naturally fall into their Dom/sub roles flawlessly. Their chemistry was off the charts and all this was done without much dialogue. It's like they were meant to be from the beginning and Arslan wasn't the only one who felt it. I sure as hell did, too.
They were hot, they had definite chemistry and Arslan wants his mate. And he wants him now, dammit! But the poor feline doesn't always get what he wants.
I really liked Ryland. He was such a sweet, subby boy, but he still stood his ground. He was going to be thrown to the lions (specifically, Arslan) on his own terms. I liked that he was willing to go about things the right way (well, the right way in this type of situation, at least) and took his own measures to fix what he felt he did wrong. His desire to be treated as an equal with Arslan really sealed the deal for me. He didn't want to feel like Arslan was settling for a human. Ryland isn't the type of person someone 'settles' for and he made sure Arslan knew it. *high five Ryland*
The alpha male dealing with the human shenanigans made for a fun paranormal. And that's what this was: short, fun, hot. It's definitely worth reading and I'll be looking into more Lion and human sexytimes.
Find out more info on Goodreads!