Get ready for a treat! We've got a Double Shot of Cari Z.! That's right...two flash fics!
It's the best kind of kiss, the kind that rides in on the back of exhilaration and only surfaces as a possibility when you get a glimpse of just the right person. It's a stroke of midnight kiss, a glittering gem of a kiss, the kind that turns frogs into princes for as long as you need the illusion to last. It's a vibrant, sugar-sweet, caramel candy of a kiss, sticky and delicious and almost, but not quite, cloying.
It's just what you need on a night like tonight, when you're so tired of running you could scream, and everyone around you seems to have someone except this boy, this one lonely boy, only he's not so lonely anymore. You don't know what this kiss means to him, but you can feel him smile into your mouth, and his hands tighten appreciatively against your arms.
It ends too soon, the heat between you still simmering even though you have to pull back for breath. He opens his eyes, and his smile becomes a grin. You feel a tug inside, an impulse to make this into something more, to return that smile with interest. You've had a kiss, a perfect moment. You could have more.
But you can't. Not now. You resist the growing urge to run and brush glitter from his forehead, press your lips to the edge of his mouth and murmur, "Thanks," because you mean it. When you pull back again he's not smiling any more, and that already feels more right. He's about to say something when a man falls between you, laughing and obnoxious, the perfect distraction. You melt away from him, and it's gratifying when he looks around for you, eyes wide, red lips open in silent question.
If you could stop, you'd stop for him. Or someone like him. Maybe someday. For now, it's enough human contact to keep you going for a while longer.
I sort of pestered her for this one since I loved her steampunk story, The Train WHICH IS FREE ON AO3, PEOPLES!
To Anton, the spell of obfuscation appeared like a mist, seeping out of the wall where he had drawn the sigil and slowly surrounding them until there was nothing within its cloud-like curtain except the two of them, leaving them as private as Anton could possibly hope for in a student dormitory filled with thaumaturges. He was strong, he knew that much, and his spells were decidedly complex when compared to some of his contemporaries. It was more than a veil to the eyes: it was a block on all the senses, rendering anyone who came their way disinterested, their ears muffled, their vision drawn to other, sharper things. Anton was justifiably proud of it. He wondered what it looked like to Camille.
He would have asked, but Camille clearly had other concerns, if the way he pressed Anton's bare back against the chill stone of the wall and buried his face against his neck was any indication. "Lift up," he urged, his voice guttural, and Anton obliged him, rising onto his toes and slinging one leg around Camille's waist. The lumière's relentless grip shifted beneath his thigh, lifting him even higher, until Anton gave into temptation and let all his weight rest against his lover, his body completely off the ground. The roughness of the stone dug furrows into his back, and Camille's hands felt like brands as they spread Anton open and made a place for Camille to slot in tight against him.
God, he had never felt a need like this before. And as good as it was to indulge in the press of Camille's body against his own here, Anton's need would not be satisfied by desperate rutting against a wall.
"Bed," he gasped against the edge of Camille's jaw, relishing the prickly brush of hair against his own tender lips. "Take me to bed."
***
About Cari Z
Cari Z was a bookworm as a child and remains one to this day. In an effort to combat her antisocial reading behavior, she did all sorts of crazy things, from competitive gymnastics to alligator wresting (who even knew that was legal!) to finally joining the Peace Corps, which promptly sent her and her husband to the wilds of West Africa, stuck them in a hut, and said, "See ya!" She also started writing, because some things she just thought she could do better. She's still climbing that ladder, but can't stop herself from writing, or from sharing what she creates.
Cari enjoys a wide range of literary genres, from the classics (get 'im, Ahab) to science fiction and fantasy of all types, to historical fiction and reference materials (no, seriously, there are so many great encyclopedias out there). She writes in a wide range of genres as well, but somehow 90% of what she produces ends up falling into the broad and exciting category of m/m erotica. There's a sprinkling of f/m and f/f and even m/f/m in her repertoire, but her true love is man love. And there's a lot of love to go around.
Cari has published short stories, novellas, and novels with numerous print and e-presses, and she also offers up a tremendous amount of free content on Literotica.com, under the name Carizabeth.
Connect with Cari:
We'd like to thank Cari for joining in the shenanigans! Be sure to tell her what you thought of her flashfics in the comments and ICYMI! Her re-release of Changing Worlds just came out October 24th and early reviews are fantastic! Check it out HERE!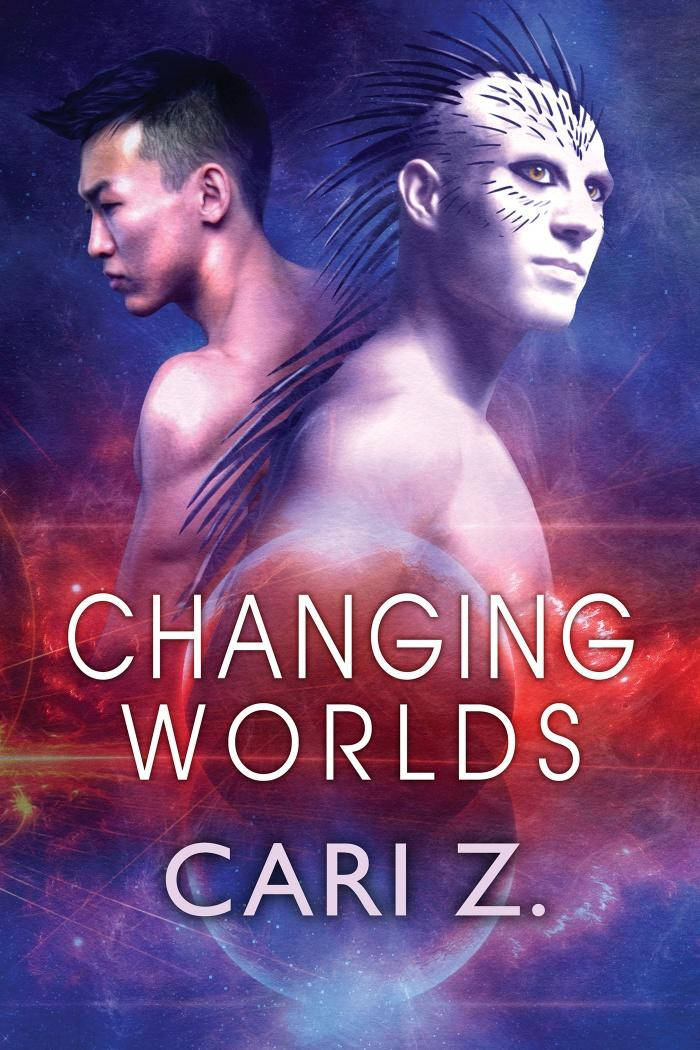 Trivia Question
Which series features a purple alien protagonist? (worth 5 pts)
Be sure to tweet your answer by tagging @BMBReviews along with the answer & the author's name for your chance to win DSP credits!
Enter for a chance to win a paperback copy of Friendly Fire (international shipping OK)
The giveaway is open until

12:00AM (Eastern time) on 11/9/16

. Shortly thereafter, we will contact a winner!
Please respond to the winning notification within 48 hours or we will choose another winner. Good luck!
Don't miss entering in our month long unicorn giveaway here!